Introduction
Hepatocellular carcinoma (HCC) is the most common primary liver neoplasm: it is the second leading cause of cancer-related deaths worldwide and sixth for cancer-related deaths in developed countries[1,2]. With regard to Italian data, HCC accounts for 79% of primary liver cancer, and it is among the first five causes of cancer-related deaths (7% global population)[3].
The elderly rate in Italian and Western populations has increased for reduced newborn/year and the progressive increasing of mean age. The risk of developing cancer is age-dependent. In Italy, patients over 75 years old have a 25% higher relative risk than the 60-74 age group (147/100,000 vs. 106/100,000), and it is 5 times higher than the 45-59 age group[4]. In the next years, the true incidence of HCC will be directly related to population age up to rates of 51 cases/100,000 in males and 119 cases/100,000 in females[5], according to EUROCARE report[6]. Therefore, the number of elderly patients requiring treatment for primary and metastatic liver cancer is constantly rising and, despite a limited life expectancy, the use of liver surgery has been found by many authors to be a safe and effective treatment for these patients[7,8].
Laparoscopic liver resection for HCC in selected patients has shown very good results[9,10] with regard to oncological outcomes, morbidity, mortality, length of hospital stay (LOS) and fast postoperative recovery. This is important after oncological surgery, because complications may negatively impact on short-term outcomes, long-term survival and recurrence[11]. The robotic approach has been introduced to overcome some limitations of conventional laparoscopy, such as improved range of movements and enhanced instrument dexterity, a 3-dimensional view of the surgical field, a reduction in surgeon tremors and shortened learning curve.
The effect of age on cancer treatment allocation is controversial[12]. Mini-invasive surgery is a new goal in the treatment of HCC because it has made a great impact on surgical practice and on liver surgery. The management of elderly patients with HCC is becoming routine in clinical practice, but it is substantially more complicated than with younger patients because of comorbidities such as cardiovascular and respiratory disease, diabetes, renal failure and fragility. Age may not represent a limiting factor for liver resection, but it is still unclear if elderly patients can benefit from minimally invasive surgery. The most common concerns for surgeons and anesthesiologists in this regard are as follows: longer operative times, pneumoperitoneum and its physiological consequences, diminished functional reserve, and pre- or postoperative comorbidities.
In the last 10 years, only some single-center retrospective studies have analyzed the results of mini-invasive surgery in elderly patients, and very few reports have focused on topics about mini-invasive surgical treatment of the elderly with HCC.
The objective of this study was to perform a systematic review to compare mini-invasive liver resection (MILR) (laparoscopic/robotic approach) and open liver resection (OLR) for HCC in the elderly, across a comprehensive range of outcomes reported from both randomized and observational studies.
Results
Study characteristics and population
The flow diagram for article selection for systematic review is shown in Figure 1 according to the PRISMA guidelines. The initial search yielded 19,558 reports but only 17,717 were in English. After examining the titles and key words, we excluded 15,852 citations because of irrelevance, and after abstract screening, we removed 1836 other records because of incongruences on population or outcomes. The 29 remaining studies were assessed for eligibility by a full-text examination. Finally, eight studies[18-25] were included in this systematic review for the quantitative synthesis, five of which compared laparoscopic liver resection and open approach, two robotic vs. open liver resection and one both laparoscopic and robotic vs. open approach [Table 1].
Table 1
Characteristics and quality assessment of studies included in the systematic review
Study
Year
Country
Study design
Surgical group
Number
Quality assessment**
Badawy et al.[18]
2017
Japan
 Retro + PMS*
       MILR
       OLR
    40
    40
                M
Chan et al.[19]
2014
China
 Retro
       MILR
       OLR
    17
    34
                L
Amato et al.[20]
2016
Italy
 Retro
       MILR
       OLR
    11
    18
                M
Nomi et al.[21]
2020
Japan
 Retro-multicenter
       MILR
       OLR
    221
    409
                H
Wang et al.[22]
2015
China
 Retro
       MILR
       OLR
    30
    60
                M
Tee et al.[23]
2019
USA
 Retro-multicenter
       MILR
       OLR
    487
    1282
                H
Wang et al.[24]
2018
Taiwan
 Retro
       MILR
       OLR
    63
    177
                M
Chen et al.[25]
2017
Taiwan
 Retro + PMS*
       MILR
       OLR
    81
    81
                H
A total of 3051 patients who underwent liver resection for HCC from 8 studies were included, with 950 undergoing MILR and 2101 OLR. All the selected studies were retrospective (5 case-control and 3 case-matched). The cut-off age for elderly was 75 years old in 2 studies and 70 for 5 studies and median age was > 65 for 1 study. Percentages of HCC patients were 100% for all the included studies with exception of Badawy et al.[18] and Chan et al.[19]. For these two studies percentages of HCC patients in both mini-invasive and open groups were greater than 50%, therefore we included the studies in the review and in the statistical analyses. The overall quality assessment of each of the studies included is given in Table 1. One study was assessed as low quality[19], four studies as moderate quality[18,20,22,24] and three studies as high quality[21,23,25].
Primary outcomes
Meta-analyses of the considered outcomes are reported in Figure 2A and B, Table 2 and Table 3. No significant differences in preoperative characteristics were noted between the groups for liver assessment and function, including Child-Pugh score, serum total bilirubin level, comorbidities, presence/absence of cirrhosis. Major resections were significantly more common in the OLR group compared to the MILR group; indeed, the relative risk for MILR was reduced by 42% (RR = 0.58, 95%CI: 0.34-0.97), but this result was affected by substantial heterogeneity (I2 = 86%). Segmentectomies and wedge resections were significantly more common in the MILR than in the OLR group (RR = 0.34, 95%CI: 0.19-0.63). The risk for the mini-invasive group with respect to the open group was reduced by 66%, but the result showed considerable heterogeneity (I2 = 95%) and these results were however related to only one study[25].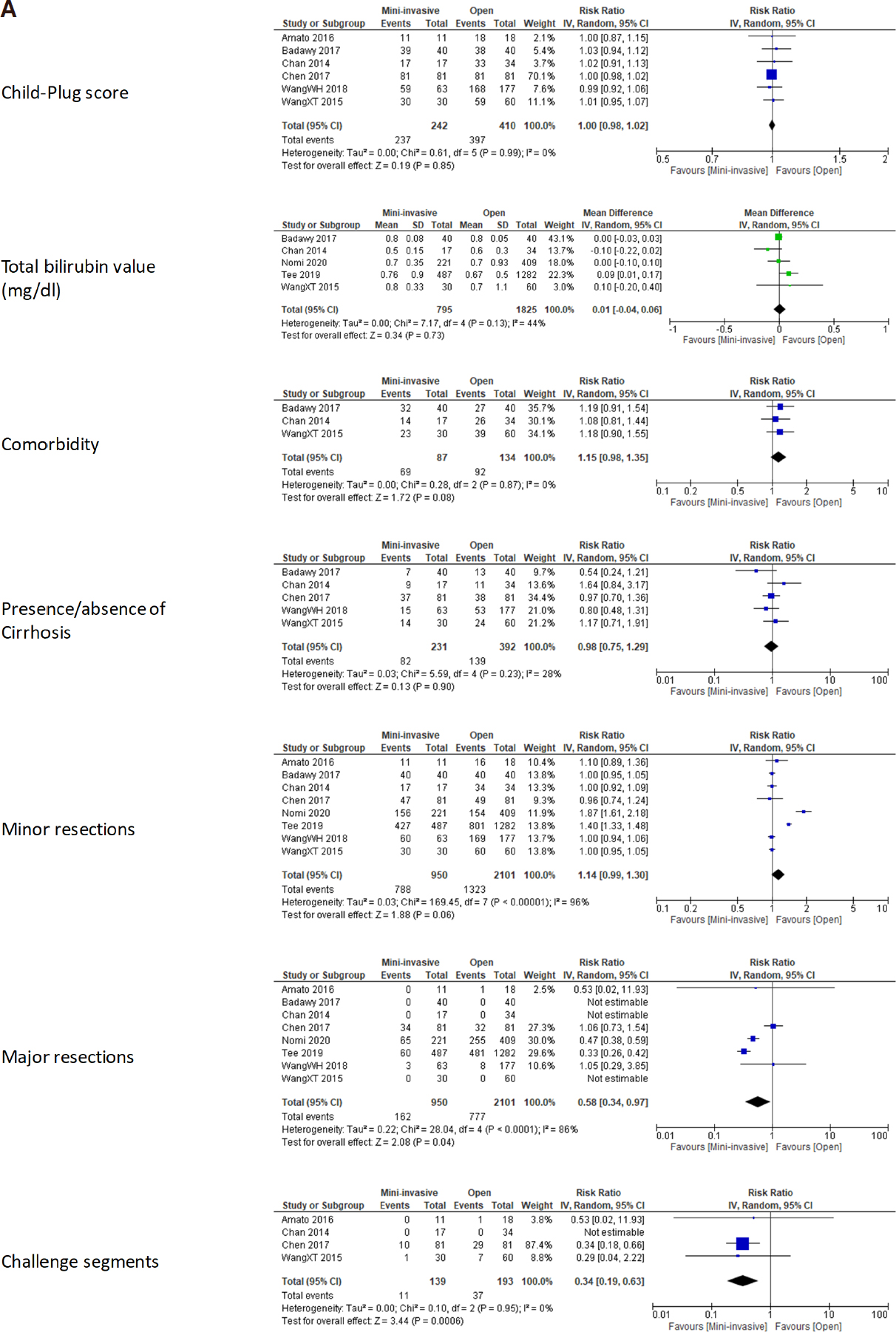 Figure 2. A: Meta-analyses of included studies on primary outcomes; B: Meta-analyses of included studies on primary outcomes
Table 2
Clinical characteristics and primary outcomes of studies included in the meta-analysis
Study
Year
CP score A
Mean total bilirubin (mg/dL)
Comorbidity (pathological history)
Cirrhosis (presence)
Minor resection
Major resection
MILR
OLR
MILR
OLR
MILR
OLR
MILR
OLR
MILR
OLR
MILR
OLR
Badawy et al.[18]
2017
39/40
38/40
0.8
7/40
40/40
40/40
40/40
40/40
6/40
6/40
22
23.5
Chan et al.[19]
2014
17/17
33/34
0.5
9/17
17/17
34/34
17/17
34/34
3/17
12/34
30
30
Amato et al.[20]
2016
11/11
18/18
na
11/11
11/11
16/18
11/11
16/18
0
0
35.45
39.83
Nomi et al.[21]
2020
na
na
0.7
na
156/221
154/409
156/221
154/409
na
na
25
38
Wang et al.[22]
2015
30/30
59/60
0.8
14/30
30/30
60/60
30/30
60/60
3/30
7/60
40
50
Tee et al.[23]
2019
na
na
0.76
na
427/487
801/1282
427/487
801/1282
na
na
na
na
Wang et al.[24]
2018
59/63
168/177
na
15/63
60/63
169/177
60/63
169/177
8/63
35/177
36.3
30.5
Chen et al.[25]
2017
81/81
81/81
na
37/81
47/81
49/81
47/81
49/81
na
na
na
na
Table 3
Further primary outcomes of studies included in the meta-analysis
Study
Year
Challenge segment resection
Operative time (min)
Liver failure
Blood loss
(mL)
Morbidity
Mortality
LOS
(Day)
MILR
OLR
MILR
OLR
MILR
OLR
MILR
OLR
MILR
OLR
MILR
OLR
MILR
OLR
Badawy et al.[18]
2017
na
na
259
308.5
5/40
11/40
30
517
6/40
15/40
0/40
0/40
10
23
Chan et al.[19]
2014
0/17
0/34
195
210
0/17
0/34
150
330
4/17
6/34
0/17
0/34
6
8
Amato et al.[20]
2016
0/11
1/18
190.9
196.9
0/11
0/18
198
310
0/11
6/18
0/11
0/18
3.18
5.7
Nomi et al.[21]
2020
na
na
na
na
7/221
36/409
100
562
40/221
149/409
2/221
3/409
11
14
Wang et al.[22]
2015
1/30
7/60
133
170
na
na
100
300
3 /30
10/60
0/30
0/60
5
10
Tee et al.[23]
2019
na
na
196.2
229.0
62/487
2/1282
na
na
81/487
346/1282
9/487
51/1282
na
na
Wang et al.[24]
2018
na
na
296
182
0/63
1/177
206
267
7/63
27/177
0/63
0/177
6.21
8.18
Chen et al.[25]
2017
10/81
29/81
343
220
0/81
0/81
282
263
4/81
4/81
0/81
0/81
7.5
10.1
Among the thirteen outcomes, estimated blood loss, morbidity according to Clavien-Dindo classification, and LOS showed statistical significance in favor of the mini-invasive approach. In particular, on average, mini-invasive intervention decreased blood loss by 161.43 (95%CI: 250.24-72.61) mL, although this result showed a substantial percentage of statistical heterogeneity (I2 = 85%) between studies. The mini-invasive approach decreased the risk of morbidity by 42% with respect to open resection (P < 0.01), and these pooled data were strengthened by no important heterogeneity between studies (I2 = 0%). LOS indicated an average decrease of 4 (95%CI: 7-2) days for mini-invasive with respect to open surgery, even if this effect showed considerable heterogeneity (I2 = 92%) between studies. Finally, postoperative mortality showed a risk reduction of 47% for mini-invasive compared to open surgery, although not significant (P = 0.06). Due to zero events both in the mini-invasive and open groups, 6 out of 8 studies were not informative for this outcome. Consequently, this outcome was estimated by 2 out of 8 studies, that demonstrated no important statistical heterogeneity (I2 = 0%). Funnel plots of each outcome showed no graphical asymmetry, indicating no publication bias, although the number of studies was too low to support strong deductions.
Secondary outcomes
Meta-analyses of the outcomes considered are shown in Figure 3. Number of lesions (single/multiple), readmission rate, recurrence rate, survival at 1, 3, and 5 years showed no statistical differences between the mini-invasive and open groups. Tumor size plotting analysis reported a mean pooled size reduction of 4.22 mm in the MILR group, although this result was not statistically significant (95%CI: 9.57-1.13, P = 0.12), and heterogeneity was substantial (I2 = 84%). In particular, the recurrence outcome, estimated by two studies, demonstrated a risk reduction of 45% for the mini-invasive group with respect to the open one, although not significant (P = 0.06) and with moderate heterogeneity (I2 = 57%). However, the number of studies for each outcome was too low to evaluate publication bias.
Discussion
The management of HCC in elderly patients is multidisciplinary with a wide range of treatment options ranging from liver resection, liver transplantation, loco-regional therapies including ablation and transarterial-chemoembolization, to molecular-targeting therapies[26]. The right patient allocation is determined by many factors including clinical characteristics, tumor burden, and multidisciplinary staff expertise[27]. Elderly patients have increased comorbidities including cardiovascular disease, pulmonary disease, diabetes mellitus, and renal insufficiency: these are conditional factors for outcome after surgical therapy as compared to the younger population[28]. Mini-invasive liver surgery represents a particular challenge for elderly patients affected by cardiopulmonary disease. Carbon dioxide pneumoperitoneum may result in acid-base disturbance with acidosis[29] and the increase of intra-abdominal pressure may result in a decrease in lung compliance, vital capacity, venous return and vascular perfusion of intra-abdominal organs[30].
In the last 10 years, improvement of perioperative care, careful patient selection and the presence of strong clinical evidence of benefits have increased the application of laparoscopic procedures in elderly patients. Several studies have reported on the safety and reduced postoperative morbidity and mortality in laparoscopic surgery in elderly patients[31,32]. Randomized trials, multicenter trials, systematic reviews, and meta-analyses about laparoscopic colorectal resection in the elderly indicate a real benefit in terms of lower risk of blood transfusion, postoperative complications and oncological outcome. Longer operative time and pneumoperitoneum seem to promote short-term pulmonary and/or cardiac complications[33-36].
Surgical resection is a potentially curative option for the elderly patient. Several meta-analyses[37,38] have shown that laparoscopic and robotic liver resection is associated with faster recovery, less postoperative pain and shorter hospital stay when compared with open liver resection.
Although the elderly could have a more complex clinical profile and a number of fragilities, age is not an absolute contraindication to liver surgery. The Barcelona Clinic Liver Cancer staging and treatment algorithm recommend surgical resection as elective treatment without difference between young or elderly[39]. Nevertheless, the correct determination of which patients in the elderly group would benefit from surgical therapy is the most important clinical challenge. Poor liver function, portal hypertension, important comorbidities and cirrhosis stage are the true selection criteria for the right therapy and are helpful for identifying unfit patients.
Many studies have already demonstrated the feasibility of liver resections by the open approach in elderly patients including those suffering from other concomitant diseases[40], but the role of the mini-invasive approach (laparoscopic or robotic) in the surgical management of HCC is under investigation.
This systematic review focused on the elderly population affected by HCC to assess if MILR may be safe and feasible in this group of fragile patients. In this study, we included eight primary studies with a total of 3051 patients undergoing liver resection; 950 were treated by MILR and 2101 by OLR. Using these data, we performed twenty-one meta-analyses investigating the main clinical and oncological outcomes of relevance. Regarding the functional selection criteria for MILR or OLR in HCC patients, all papers[18-25] reported that the only patients considered eligible were those with well-compensated cirrhosis or liver function without severe portal hypertension or bilirubin level out of normal range. They were essentially identical in both groups (OLR and MILR), because a careful patient selection and a complete liver function assessment were mandatory in these patients. Of all meta-analyses investigated, only 8 patients in the OLR group[18,19,22,24] and only 2 patients in the MILR group[18,24] were identified as Child-Pugh score B. These data, as shown in Figure 2A, however represented a study limitation since the present meta-analysis was not able to find statistically significant results.
Meta-analyses demonstrated that in elderly patients MIRL had similar organ failure, mortality and readmission rate as compared to the open approach. MILR can be safe in the elderly because it requires less sacrifice of liver tissue and has better bleeding control and lower rate of intermittent Pringle maneuver and because it can treat multiple lesions at the same time, especially in anterior segments. However, there are cases where complete MILR is not possible and use of ablative therapy combined with surgery increase oncological outcome[41].
Nomi et al.[21] demonstrated in their series that MILR was safer and more feasible when compared with OLR, even in octogenarian patients. This study was the first multicenter, propensity score-matched study to show better short-term outcomes with MILR than with OLR in elderly patients with HCC. These authors performed a subgroup analysis according to patient's age (group 75-79 compared with group > 80) and dividing patients in relation to treatment (MILR - 78 patients and OLR -147 patients). In the cohort > 80, the major complication rate and LOS were significantly lower in the MILR group than OLR group. Furthermore, in the MILR group, the study reported both a 90-day mortality rate and transfer to rehabilitation facility rate of 0% in the MILR group. These data suggested that mini-invasive surgery was less invasive and was associated with early recovery in elderly patients.
In our analysis, morbidity rate according to the Clavien-Dindo classification, LOS and intraoperative blood loss were lower in the mini-invasive group with high statistical impact. These findings were consistent with many studies and meta-analyses on major resection[42-44]. The Southampton Guidelines reported that the laparoscopic approach was found to be the only independent factor to reduce the complication rate in resections for HCC[45]. In cirrhotic patients, the laparoscopic approach reduces the incidence of postoperative ascites, liver failure and morbidity assessed in terms of ''Comprehensive Complication Index"[45-47]. Blood loss and transfusion rate are very important prognostic factors in liver surgery[48]. Morbidity rate reduction demonstrated by our meta-analysis in patients undergoing MIRL could be explained by many factors. First, pneumoperitoneum with abdominal negative pressure decreased portal flow rate and reduced the small and continuous venous bleeding during the parenchymal transection phase[49]. Second, the use of an energy instrument for transection of liver parenchyma has proved to be highly effective for hemostasis[50]. Moreover, the absence of a large abdominal skin incision reduces muscle wall bleeding, and finally, laparoscopy and robotic technology offer an optimal magnified and three-dimensional view, which are important surgical factors for meticulous hemostasis as well as for greatly facilitating parenchymal transection in cirrhotic livers[51].
However, one of the major limitations of our meta-analysis could be that surgical indications to MILR were selected at the center's discretion according to surgical procedure complexity rather than by defined criteria. All authors included in this meta-analysis always reported the principles guiding patient selection to undergo MIRL were according to the International Position on Mini-Invasive Liver Surgery agreement of Louisville (2008) or Morioka Guidelines (2014)[9,10,24], tumor size[24] and tumor location[18,19,20,22,24]. An important point that needs to be investigated is that all papers reported many minor liver resections in the MILR group rather than in the OLR group. However, it remains uncertain if the same short and long benefits could be extended to elderly patients with major anatomical resection involving larger parenchymal transection area or longer operative time. Wang et al.[24] found in their study that 38% of HCC cases in the robotic assisted group were located in challenge segments, but they never performed a major hepatectomy in the MILR group. The large number of minor resections, wedge or segmentectomies, suggested that a parenchymal sparing strategy and R0 resections are however basic and main guidelines for treatment when using a mini-invasive technique. This means that the mini-invasive cohort included in this paper was certainly not previously highly selected because all authors, as stated, followed international guidelines.
Amato et al.[20] wrote that the main factor that would contribute to decreased blood loss might be the tumor position in anterior segments. Challenge segment resection in their series was performed only with the open approach. This selection might have had significant effects in reducing severe bleeding risks, but the robotic approach can represent the ideal overlap technique to overcome the bias in their study[52].
Pulmonary and cardiovascular failure after liver resection might be very dangerous in the elderly. The incidence range has been reported to be from 10% to 20%[53], and they are related to functional changes in old age[54,55] but also to intraoperative fluid overload[53]. Some conditions such as a lower morbidity rate or a lower intraoperative blood loss in the MILR group might contribute to reduced fluid administration during liver resection. Thus, the absence of large abdominal incision might increase thoracic cage excursion and decrease the pain without respiratory distress. This might be associated with enhanced postoperative recovery and shorter hospital stay.
MILR reduces LOS rate because the absence of large abdominal incision and preservation of postoperative pulmonary function may explain less minor postoperative complications in the MILR group[56]. However, careful patient selection about assessment of liver function is the most important factor in morbidity prevention.
This report reveals that operative time in the MILR group was longer than OLR group. The learning curve was associated with experience of surgeons and might be a significant factor contributing to the difference in operative time for the mini-invasive group. The robotic approach, in the MILR group, was associated with longer operative time. This can be explained by the large proportion of major hepatectomy or challenge segment approach, and especially for additional time required for docking and de-docking of robotic system. Tsung et al.[57] found that operative time decreased significantly as the number of cases accumulated and increase of experience with robotic liver surgery.
Oncological outcome such as tumor recurrence and survival did not differ significantly between the two groups, but this outcome was investigated in only half of studies[18,24,25]. Recurrence rate is a very important prognostic element. It is essential for improving long-term prognosis, and it is related to tumor-free margins in oncological surgeries, because histologically negative margins could result in a better outcome after HCC resection[38]. For patients with HCC, clinical and oncological outcomes are conditioned by tumor invasiveness and underlying liver disease[58]. The risk of recurrence of HCC after liver resection is always a concern and is common with the diseased liver remaining in situ. Perhaps not surprisingly, recurrence and survival after surgery for HCC has been shown to be shorter in patients with advanced cirrhosis compared with patients with early disease. The higher recurrence rate during the worsening of the disease probably reflects the carcinogenic effect of advanced cirrhosis, being more prominent than in less cirrhotic livers or in chronic hepatitis, which is well established in the literature[59]. Therefore, MILR for HCC provided long-term outcomes that were comparable with OLR and did not generate unusual HCC recurrence patterns.
Study limitation
There were several limitations in this systematic review. First, the literature search was only done on the two most relevant scientific databases for medical practice (PubMed and Cochrane Library). Second, the review was limited by the lack of randomized controlled studies or prospective studies regarding comparable populations. Indeed most of the studies on this topic were observational and retrospective, although some of them[18,21,23,25] minimized selection bias, performing a matching of the populations studied.
Due to no events in small sample size papers, or outcomes not available in the primary studies, few studies were available in some of the meta-analyses, thus limiting the strength and trustworthiness of our results.
Meta-analyses are characteristically limited by the presence of heterogeneity between studies. Sources of heterogeneity in this review were different patient's age cut-off, different percentages of HCC patients, and different countries of studies. We incorporated heterogeneity by performing random effect model meta-analyses. On the contrary, the small numbers of the studies included did not allow us to further explore heterogeneity with subgroup analyses and meta-regression.
Moreover, due to the limited number of the studies included in the quantitative analyses, we were unable to properly verify if publication bias was present. Finally, we observed that our systematic review pooled papers with different study populations. Indeed, two reports included a small number of patients[19,20]; however, on the other hand, two main studies analyzed very large populations[21,23].
To conclude, the scientific literature shows the presence of other systematic reviews on this topic. However, all these secondary studies are characterized by different study selection criteria, outcomes, and populations. Consequently, we believe that our paper could add value to the HCC surgical literature, especially because it assessed a very large number of key outcomes.
In conclusion, this study provides an overview of the last ten years about the comparison between MILR and OLR for HCC treatment in elderly patients. Meta-analyses confirmed the advantages of MILR, both laparoscopic and robotic, in terms of perioperative outcomes, where it may promote the extension of liver resection to HCC patients with borderline liver function. Specifically, our results showed shorter LOS, less intraoperative blood loss and lower morbidity rate in MILR. Moreover, major resections were significantly more common in the OLR group compared to the MILR group. There were no significant differences in survival and recurrence outcomes between the two groups.
According to our results, MILR, which minimizes surgical trauma, must be considered as an important treatment option with significant quality of life benefits in the elderly, showing hopefully one of its best advantages in this fragile population. Efforts should be made to avoid as much as possible OLR in this population. However, randomized controlled trials or well-designed large prospective comparative studies would be necessary to definitely support the superiority of MILR in elderly patients with HCC.
Declarations
Authors' contributions
Study conception and design of the work: Brolese A, Ciarleglio FA
Literature search, acquisition, selection and reading: Brolese A, Rigoni M, Vitale A, de Pretis G, Avancini I, Pravadelli C, Frisinghelli M, Rozzanigo U, Luppi G, Dionisi F, Marcucci S, Viel G, Beltempo P, Prezzi C, Frisini M, Brolese M, Nollo G, Ciarleglio FA
Screening of the papers and data extraction from the selected studies: Rigoni M, Ciarleglio FA
Data analysis and statistical evaluation: Rigoni M, Nollo G
Interpretation of data for the work: Brolese A, Rigoni M, Vitale A, Nollo G, Ciarleglio FA
Drafting the work or revising it critically for important intellectual content: Brolese A, Rigoni M, Ciarleglio FA
Final approval of the version to be published: Brolese A, Rigoni M, Nollo G, Ciarleglio FA
Availability of data and materials
The datasets generated and/or analyzed during the current study are awailable in the cited current literature or websites (PubMed and Cochrane).
Financial support and sponsorship
None.
Conflicts of interest
All authors declared that there are no conflicts of interest.
Ethical approval and consent to participate
Not applicable.
Consent for publication
Not applicable.
Copyright
© The Author(s) 2020.