1Guangzhou Municipal and Guangdong Provincial Key Laboratory of Protein Modification and Degradation, School of Basic Medical Sciences, Guangzhou Medical University, Guangzhou 511436, Guangdong, China.
2The Third Clinical School of Guangzhou Medical University, Guangzhou Medical University, Guangzhou 511436, Guangdong, China.
3State Key Laboratory of Oncology in Southern China, Collaborative Innovation Center for Cancer Medicine, Sun Yat-Sen University Cancer Center, Guangzhou 510060, Guangdong, China.
4Department of Clinical Oncology, State Key Laboratory of Liver Research, The University of Hong Kong, Hong Kong, China.
Correspondence to: Dr. Ming Liu, Guangzhou Municipal and Guangdong Provincial Key Laboratory of Protein Modification and Degradation, School of Basic Medical Sciences, Guangzhou Medical University, Xinzao, Panyu District, Guangzhou 511436, Guangdong, China. E-mail: liuming@gzhmu.edu.cn
Abstract
Hepatocellular carcinoma (HCC) is a highly heterogeneous malignancy. In the clinic, therapeutic resistance is largely attributed to tumor heterogeneity. Growing evidence indicates that cancer stem cells (CSCs) are the major source of tumor heterogeneity. Hence, uncovering the resistance mechanisms associated with CSC properties is essential for developing effective therapeutics. CSCs resemble embryonic stem cells. Embryonic development-related genes and signaling pathways are usually abnormally active and function as oncofetal drivers in HCC. Multiple strategies have been applied to identify oncofetal drivers. The mechanisms of CSC resistance could also provide reliable biomarkers to predict treatment failure. Precisely targeting these specific CSC properties may be effective in preventing or annihilating therapy resistance. This review provides an overview of drug resistance mechanisms associated with CSC traits and summarize therapeutic strategies against drug resistance.
Graphical Abstract
Keywords
Hepatocellular carcinoma, heterogeneity, cancer stem cell, drug resistance, precision therapy
INTRODUCTION
Globally, hepatocellular carcinoma (HCC) is one of the most common and deadliest cancer types. Liver resection, ablation, and transplantation are potentially curative procedures but require an early diagnosis. Despite diligent surveillance, a large percentage of HCC patients present with intermediate or advanced stages of the disease, and treatments are often ineffective. To date, various molecular targeted drugs for advanced HCC have been developed. Both sorafenib and lenvatinib are inhibitors of multityrosine kinases that have been approved as a first-line treatment for advanced HCC management. Regorafenib has a molecular target spectrum similar to that of sorafenib and is applied as an alternative for sorafenib-resistant HCC patients. Cabozantinib and ramucirumab are novel tyrosine kinases used as second-line HCC treatments. Additionally, immune checkpoint inhibitors (ICIs) are also being considered as systemic HCC strategies. Some of the ICIs approved or in clinical research include agents (nivolumab, pembrolizumab, tislelizumab) against programmed cell death protein 1 (PD1), agents (atezolizumab, durvalumab, sintilimab) against PD-1 ligand (PDL1), agents (ipilimumab, tremelimumab) against cytotoxic T-lymphocyte associated protein 4 (CTLA4) and other agents [cobolimab against T-cell immunoglobulin and mucin domain-containing protein 3 (TIM3), and relatlimab against lymphocyte activation gene-3 (LAG-3)][1-4]. Due to these recently developed treatments, the cancer incidence rate and the cancer death rate have gradually declined. However, due to heterogeneity, many malignant HCC patients unavoidably acquire drug resistance. This treatment failure could be explained by the properties of cancer stem cells (CSCs).
CSCs are a profoundly heterogeneous subpopulation of "stem-like" cancer cells that behave like "tumor-initiating cells" or "sphere-forming cells". Unlimited self-renewal, multilineage differentiation, and maintenance of pluripotency are key characteristics of CSCs, which are similar to those of embryonic stem cells (ESCs)[5]. Accumulating evidence suggests that drug resistance is largely attributed to CSCs, which account for much of the intratumor heterogeneity within each tumor population[6-9]. Integrating CSC properties into our understanding of drug resistance is crucial and may not only allow a better understanding of the mechanisms of chemoresistance but also facilitate the identification of potential biomarkers to predict treatment failure, as well as druggable targets for developing novel pharmacological strategies for improving the sensitivity of HCC to anticancer drugs. The present review summarizes recent studies on drug resistance mechanisms from the perspective of CSCs [Figure 1], provides an overview of therapeutic strategies for CSC-mediated drug resistance, and finally focuses on mono- or combination therapies against drug resistance [Table 1].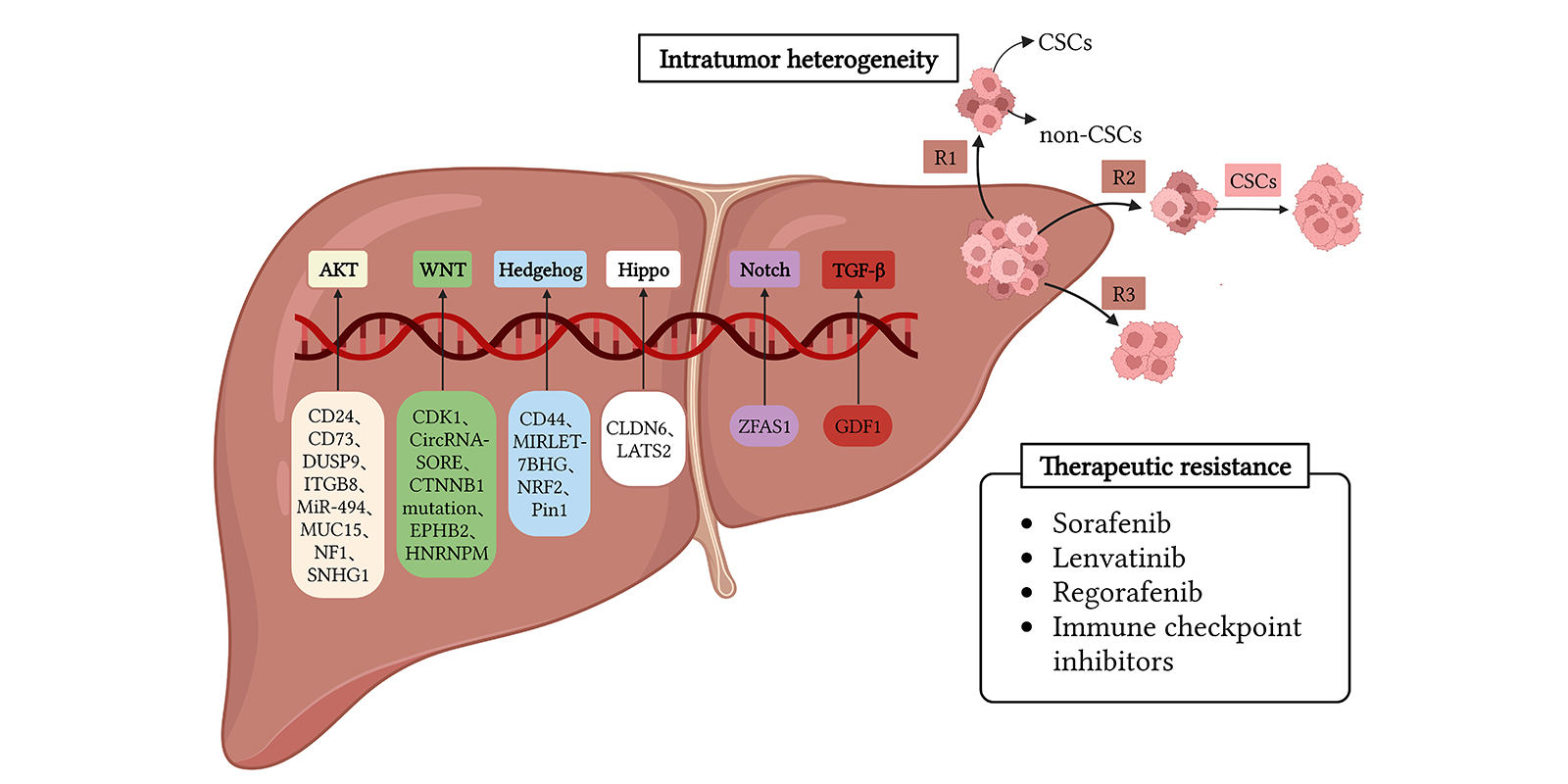 Figure 1. The mechanisms of heterogeneous CSCs that are responsible for the acquisition of therapeutic resistance. Selected mechanisms include CSC-associated potential biomarkers and developmental pathways.
Table 1
Targeted therapies for resistant HCC
Clinical drug
Resistance mechanisms
Candidate biomarker
Therapeutic strategies
Reference
Sorafenib
Suppress the DNA damage repair signaling through CHD1L
PARP1
Olaparib
[22]
CD13 activates HDAC5/LSD1/NF-κB signaling
CD13
CD13 shRNA, ubenimex
[36]
CD24 increases PP2A protein production and induces the deactivation of the mTOR/AKT pathway
CD24
CD24 shRNA
[37]
Activation of JAK/STAT pathway in the SP/CD44+ fraction of the Akt/β-catenin tumorspheres
AKT/β-catenin
TG101209, AZ960
[38]
LGR5+ compartment
LGR5
Diphtheria toxin+5-FU
[39]
Increasing IL-10 and IL-35 expression and suppressing CD8+ T cells
CCR4+ Tregs
N-CCR4-Fc
[40]
CLDN6/TJP2/YAP1 signaling regulatory axis
CLDN6
CLDN6-DM1
[21]
CDK1/PDK1/β-Catenin signaling regulatory axis
CDK1
RO3306
[41]
Activation of Hedgehog signaling pathway
CD44
GANT61
[42]
NRF2/SHH/GLI signaling regulatory axis
NRF2
NRF shRNA
[43]
EPHB2 drives SRC/AKT/GSK3β/β-catenin signaling cascade, EPHB2 activates TCF1 to form a positive Wnt/β-catenin feedback loop
EPHB2
rAAV8-shEPHB2
[44]
MiR-494 activates AKT/mTOR pathway
miR-494
Anti-miR-494
[45]
circRNA-SORE sequesters miR-103a-2-5p and miR-660-3p and
competitively activates the Wnt/β-catenin pathway
CircRNA-SORE
circRNA-SORE shRNA
[46]
miR-21 promotes SNHG1, resulting in upregulation of SLC3A2,
leading to the activation of AKT pathway
SNHG1
SNHG1-Smart Silencer
[47]
TRERNA1 activates the NRAS/Raf/MEK/ERK pathway by
modulating miR-22-3p
TRERNA1
TRERNA1 shRNA
[48]
ZFAS1 activates stemness genes (eg., EpCAM, CD24, CD90, CD133,DLK1, Krt18/19), EMT markers (eg., S100A4/A6, Twist, Vimentin) and notch signaling pathway related genes (eg., Notch1-3, Delta1-4, Jagged2, Hes1/Hey1, DLL1, DLL4) ​
ZFAS1
ZFAS1 siRNA
[49]
Lenvatinib
CD73 upregulates SOX9 by AKT signaling, CD73 activates SOX9 transcription through c-Myc, CD73 prevents SOX9 ubiquitination andproteasome degradation by inhibiting GSK3β, GSK3β/SOX9/AKT signaling
CD73
CD73 shRNA
[51]
CD73 activates AKT signaling via the Rap1/P110β cascade
CD73
APCP
[52]
EGFR/PAK2/ERK5 signaling regulatory axis
EGFR
Geftinib
[54]
Activation of EGFR and IGF1R/INSR
EGFR
Erlotinib
[55]
NF1 and DUSP9 loss activate PI3K/AKT and MAPK/ERK signaling pathways
NF1, DUSP9
Trametinib
[56]
ITGB8/HSP90/AKT signaling regulatory axis
ITGB8
17‐AAG, MK-2206
[57]
FGF19 enhances ST6GAL1 via STAT3 phosphorylation
ST6GAL1
ST6GAL1 siRNA
[59]
ADAMTSL5 upregulates RTKs, such as MET, EGFR, GAB1, PDGFRβ, IGF1Rβ, and FGFR4
ADAMTSL5
ADAMTSL5 shRNA
[60]
miR-183-5p.1/MUC15/c-MET/PI3K/AKT/SOX2 regulatory circuit
MUC15
ShMUC15
[61]
circMED27/miR-665-3p/USP28 signaling regulatory axis
circMED27
circMED27 shRNA
[62]
Regorafenib
Gankyrin activates β-catenin/c-Myc signaling
Gankyrin
10058-F4
[64]
Pin1 regulates the EMT via the Gli1/Snail/E-cadherin pathway
Pin1
Pin1 shRNA
[65]
LAST2 activates Hippo signaling pathway
LATS2
Verteporfin
[66]
RAB27A-dependent exosome secretion induces Nanog expression
RAB27A
CRISPR-Cas9-sgRAB27A
[67]
Activation of TGF-β and Wnt/β-catenin signaling pathways
TGF-β signaling, Wnt/β-catenin signaling
TGFβ-R1 inhibitor
[68]
ATF3 binds to the IL-6Rα promoter and induces IL-6Rα expression
IL-6Rα
Sarilumab
[69]
Immune checkpoint inhibitors
Wnt/CTNNB1 mutation alters Wnt-β-catenin pathway
Wnt/CTNNB1 mutation
Not Applicable
[71]
CTNNB1 mutation alters Wnt-β-catenin pathway
CTNNB1 mutation
Ccl5
[72]
GDF1 induces ALK7-SMAD2/3 signalling cascade and suppresses LSD1 to boost CTA expression
GDF1
HY-100546A
[23]
SOX2, OCT4, HNRNPM, MBD2a, and FZD3 comprise a positive feedback loop
HNRNPM
HNRNPM-specific LNA
modified ASOs
[73]
PKCα phosphorylates ZFP64 at S226 and induces its nuclear translocation, leading to transcriptional activation of macrophage CSF1
PKCα
Gö6976
[74]
circMET activates miR-30-5p/Snail/DPP4/CXCL10 axis
circMET
Sitagliptin
[75]
CSC AND HCC HETEROGENEITY
HCC is a highly heterogeneous disease with unique biological features and molecular backgrounds that may respond differently to different treatments. A well-documented study links heterogeneity to clinical outcomes. HCC heterogeneity consists of intertumor (within the tumor cell population) and intratumor (tumors from the same patient) heterogeneity. Convincing evidence shows that CSC heterogeneity is the major source of intratumor heterogeneity that induces chemoresistance and subsequent tumor relapse. Different CSC subpopulations function differently, exhibit different developmental states or express different gene expression profiles[10,11]. Currently, studies of liver CSCs have mainly focused on identifying liver CSC surface markers via cell-sorting and xenotransplantation analyses in immunodeficient mice. A number of the liver CSC markers in HCC appear to be oncofetal markers, as the development of HCC is similar to that of the development of fetal, normal, and regenerating livers. Classical stemness markers, including Nanog, SRY-box transcription factor 2 (SOX2), and Oct4, and liver CSC markers, including CD13, CD24, CD44, CD47, CD90, CD133, intercellular adhesion molecule 1 (ICAM1), epithelial cell adhesion molecule (EPCAM), Leucine-rich repeat-containing G protein-coupled receptor 5 (LGR5), OV6, and Cytokeratin 19 (CK19), have been extensively applied[9].
CSCs exhibit features similar to those of ESCs due to their ability to retain the activity of vital and highly conserved developmental signaling pathways involved in managing the features of embryonic cells, normal organogenesis, and cell lineage differentiation, which may lead to the initiation or progression of poorly differentiated HCC[5]. Several important and well-characterized signaling pathways, including the protein kinase B (AKT), Hedgehog, Hippo, nuclear factor kappa-B (NF-κB), Notch, TGF-β and Wnt/β-catenin pathways, are involved in acquiring and maintaining stem-like traits, such as self-renewal, plasticity, and quiescence[8]. Interestingly, tumor cells expressing distinct CSC markers often exhibit activation of CSC pathways. For example, Notch and Jagged are highly expressed in CD133+ HCC CSCs[12]. Specifically, the molecular subtypes are usually indicative of tumor heterogeneity. The expression levels as well as the activation degree of CSC markers and signaling pathways vary among subtypes, which is a major challenge in preventing or abolishing CSC resistance[13].
MAJOR HINDRANCE OF RESISTANCE
Growing evidence shows that tumor cells harboring stem cell-like characteristics are more resistant to conventional therapeutic approaches than nonstem-like populations. The mechanisms of resistance occurrence and the acquisition of stem-like cell traits are tightly linked to the properties of CSCs, including plasticity, quiescence, CSC niches and the increased drug efflux activity of CSCs.
THERAPEUTIC RESISTANCE IN HCC: FROM THE PERSPECTIVE OF CSC TRAITS
Currently, molecular targeted therapies and immunotherapy are commonly used to treat HCC. Molecular targeted drugs consist of first-line sorafenib and lenvatinib and second-line regorafenib, cabozantinib and ramucirumab. Immunotherapy is a novel management option for HCC and principally includes ICIs against PD-1, PD-L1 and CTLA-4, such as nivolumab, pembrolizumab, MED14736, MPDL3280a, ipilimumab and tremelimumab[34]. The indications, contraindications and interactions for the first- and second-line drugs cited in the review are listed in Table 2. Although these strategies have an increased survival benefit for advanced and metastatic HCC patients, anticancer efficacy remains unsatisfactory, as most patients will eventually acquire drug resistance due to the existence of CSCs; therefore, elucidation of the mechanisms of drug resistance from the CSC perspective is essential for developing effective therapies. Here, the review focuses on related articles published in the past five years concerning CSC-mediated therapeutic resistance in HCC.
Table 2
Indications, contraindications and interactions for the first- and second-line drugs cited in the review
First/second-line treatment
Drugs
Indications
Contraindications
Interactions
References
First-line
Sorafenib
• Advanced renal cell carcinoma (RCC)
• Unresectable HCC
• Locally recurrent or metastatic, progressive, differentiated thyroid carcinoma refractory to radioactive iodine treatment
• Patients who are hypersensitive to sorafenib or any other component of this drug
• Patients have squamous cell lung cancer and receive carboplatin and paclitaxel
• Decrease efficacy: strong CYP3A4 inducers (e.g. carbamazepine, dexamethasone, phenobarbital, phenytoin, rifampin, rifabutin, St. John's wort); Neomycin
[95,96]
Lenvatinib
• Radioactive iodine-refractory differentiated thyroid cancer (DTC)
• Unresectable or advanced HCC
• Advanced RCC
• Endometrial carcinoma
None
• Increase toxicity: CYP3A, P-gp, and BCRP inhibitors (e.g. Ketoconazole); P-gp inhibitors: [e.g. Rifampicin (600 mg as a single dose)]
• Decrease efficacy: CYP3A and P-gp inducers [e.g. Rifampicin (600 mg daily for 21 days)]
• Prolong the QT/QTc interval: Drugs known to prolong QT/QTc intervals (e.g. Everolimus)
[97,98]
Atezolizumab and bevacizumab combination
• Treatment of advanced or unresectable HCC not amenable to curative or locoregional therapies, who have not received prior systemic therapy
• Barcelona clinic liver cancer (BCLC) stage B or C
• Child-Pugh A classification of liver function
• Oesophagogastroduodenoscopy for varices within the last 6 months
• ECOG performance status 0 or 1.
None
• There are no known drug interactions with atezolizumab bevacizumab
[99,100]
Second-line
Regorafenib
• Colorectal cancer
• Gastrointestinal stromal tumors
• HCC
None
• Decrease efficacy: strong CYP3A4 inducers (e.g. rifampin, phenytoin, carbamazepine, phenobarbital, and St. John's Wort)
• Increase toxicity: strong CYP3A4 inhibitors (e.g. clarithromycin, grapefruit juice, itraconazole, ketoconazole, nefazodone, posaconazole, telithromycin, and voriconazole)
• Increase breast cancer resistance protein (BCRP) substrates toxicity: BCRP substrates
[101]
Cabozantinib
• Advanced RCC
• HCC
None
• Increase the risk of exposure-related adverse reactions: strong CYP3A4 inhibitors
• Reduce efficacy: strong CYP3A inducers
[102]
Ramucirumab
• Gastric cancer
• Non-small cell lung cancer (NSCLC)
• Colorectal cancer
• HCC
None
No information provided
[103]
Pembrolizumab
• Unresectable or metastatic melanoma
• NSCLC
• Head and neck squamous cell cancer
• Relapsed or refractory hodgkin lymphoma
• Primary mediastinal large B-cell lymphoma
• Urothelial carcinoma
• Microsatellite instability-high or mismatch repair deficient cancer
• Gastric cancer
• Esophageal cancer
• Recurrent or metastatic cervical cancer
• HCC
• RCC
• Merkel cell carcinoma
• Endometrial carcinoma
• Tumor mutational burden-high cancer
• Cutaneous squamous cell carcinoma
• Triple-negative breast cancer
Hypersensitivity to pembrolizumab or any component of the formulation.
Thalidomide analogues: Pembrolizumab may enhance the adverse/toxic effect of thalidomide analogues.


[104,105]
Nivolumab
• Hodgkin lymphoma, classical
• HCC
• Colorectal cancer, metastatic (microsatellite instability-high or mismatch repair deficient cancer)
• Head and neck squamous cell cancer (recurrent or metastatic)
• Melanoma
• NSCLC, metastatic, progressive
• Small cell lung cancer, metastatic
• Advanced RCC
Hypersensitivity to nivolumab or any component of the formulation
• Belimumab: Monoclonal antibodies may enhance the adverse/toxic effect of Belimumab
• Immunosuppressants: May diminish the therapeutic effect of nivolumab
[106]
Ipilimumab
• Metastatic colorectal cancer
• Unresectable or metastatic melanoma
• Advanced RCC
Hypersensitivity to ipilimumab or any component of the formulation; active life-threatening autoimmune disease, or with organ transplantation graft where further immune activation is potentially imminently life-threatening
• Vemurafenib: Ipilimumab may enhance the hepatotoxic effect of vemurafenib
• Disconinue breastfeeding during treatment and for 3 months following the final dose
[107]
Sorafenib
Sorafenib is a multikinase inhibitor that targets the tyrosine kinases vascular endothelial growth factor receptor (VEGFR)/platelet-derived growth factor receptor (PDGFR) and RAF serine/threonine kinases in the RAS/RAF/MEK/extracellular signal-regulated kinase (ERK) pathway[35]. Recent studies have revealed that enriched CSCs contribute to sorafenib resistance. CD13 not only provokes HCC carcinogenesis but also induces sorafenib resistance by activating histone deacetylase 5 (HDAC5), lysine-specific demethylase 1 (LSD1)-NF-κB oncogenic signaling[36]. CD24 regulates resistance to sorafenib by deactivating the mammalian target of rapamycin (mTOR)/AKT pathway[37]. AKT/β-catenin HCC tumors harbor a subpopulation of cells that overexpress the cancer stem cell-like marker CD44, which may contribute to tumor sustenance and therapy resistance[38]. The LGR5+ cell population, which harbors features of tumor-initiating cells (TICs), is resistant to sorafenib treatment[39]. Tumor-infiltrating CCR4+ regulatory T cells (Tregs) display PD-1+TCF1+ stem-like properties and enhance immunosuppressive resources in the TME. CCR4+ Tregs promote sorafenib resistance by increasing IL-10 and IL-35 expression and suppressing CD8+ T cells[40].
In addition to liver CSC markers, CSC signaling pathways are another key factor involved in sorafenib-mediated resistance. Cyclin-dependent kinase 1 (CDK1), which is frequently overexpressed in HCC, reduces sorafenib efficacy via CDK1/PDK1/β-catenin signaling[41]. The CD44-positive HCC subpopulation exhibits sorafenib resistance; however, Hedgehog signaling inhibition can sensitize this subpopulation to the drug[42]. Nuclear factor (erythroid-derived 2)-like 2 (NRF2) is a transcription factor that is highly enriched in liver TICs and regulates HCC TIC properties and sorafenib resistance through regulation of the SHH (sonic hedgehog)/GLI (glioma-associated oncogene homolog) signaling cascade[43]. Our published oncofetal driver CLDN6 is more refractory to sorafenib treatment because it enhances tumor lineage plasticity via the CLDN6/TJP2 (tight junction protein 2)/YAP1 (yeast aspartyl protease) interaction axis and further activates the Hippo signaling pathway[21]. The Wnt target gene EPHB2 (EPH receptor B2) enhances CSC properties and drives sorafenib resistance via the TCF1/EPHB2/β-catenin positive feedback loop[44].
Increasing evidence suggests that noncoding RNAs (ncRNAs), mainly miRNAs and lncRNAs, are key factors in the development of drug resistance in HCC. miR-494 is associated with stem cell-like characteristics and decreases the sorafenib response by regulating the AKT/mTOR pathway and decreasing PARP levels[45]. N6-methyladenosine-modified circRNA-SORE functions as a miRNA sponge to sequester miR-103a-2-5p and miR-660-3p and maintains sorafenib resistance by competitively activating the Wnt/β-catenin pathway[46]. Overexpression of lncRNA SNHG1 (small nucleolar RNA host gene 1) supports sorafenib resistance by activating the AKT pathway via upregulation of SLC3A2 (solute carrier family 3 member 2), and its increased nuclear expression is promoted by miR-21 in HCC cells[47]. Translation regulatory lncRNA 1 (TRERNA1) acts as a miR-22-3p sponge to positively regulate NRAS expression at the posttranscriptional level. TRERNA1 enhances HCC sorafenib resistance by activating the RAS/Raf/MEK/ERK signaling pathway[48]. Under long-term sorafenib exposure, HCC cells enrich a fraction of quiescent stem-like cells. Single-cell RNA analysis has demonstrated the vital role of stemness and EMT in causing sorafenib resistance. ZNFX1 antisense RNA 1 (ZFAS1) is a novel regulator lncRNA found to be overexpressed in higher stages (III/IV) of HCC and in poorly (G3)/undifferentiated HCC (G4) compared with levels at early stages (I/II) and in highly (G1)/moderately (G2) differentiated HCC. Overexpression of ZFAS1 increases the expression of stemness genes (e.g., EpCAM, CD24, CD90, CD133, DLK1, and CK18/19) and EMT markers (e.g., S100A4/A6, Twist, and Vimentin). Thus, ZFAS1is regarded as a critical mediator of sorafenib resistance via the induction of stemness and EMT phenotypes[49].
Lenvatinib
Lenvatinib is another oral multikinase inhibitor that selectively inhibits the tyrosine kinases VEGFR1-3, fibroblast growth factor receptor (FGFR)-1-4, PDGFR-α, c-Kit and RET and is recommended as a first-line systematic therapy in patients with advanced HCC[50]. CD73 is a novel biomarker and poor prognosis indicator of HCC, and overexpression of CD73 is essential for the sustainment of CSC features, thereby promoting HCC progression and metastasis. CD73 boosts lenvatinib resistance by upregulating SOX9 (sex determining region Y-box 9), and the increase in SOX9 expression induced by CD73 is achieved through reactivation of AKT signaling, followed by enhancement of SOX9 transcription via the downstream AKT signaling target c-Myc. Moreover, CD73 hinders SOX9 ubiquitination and proteasome degradation by abolishing GSK3β[51,52]. By applying a kinome-centered clustered regularly interspaced short palindromic repeats (CRISPR)/CRISPR-associated system (CRISPR-Cas9) genetic screen, EGFR was found to be negatively correlated with HCC sensitivity to lenvatinib. Notably, EGFR is an essential receptor tyrosine kinase regulator of CSCs[53]. In terms of mechanism, lenvatinib inhibits FGFR and then triggers EGFR-PAK2-ERK5 signaling activation[54]. In addition, IGF1R is responsible for the acquisition of further lenvatinib resistance in HCC cells[55]. Another genome-scale CRISPR-Cas9 knockout screening identified two important resistance genes, neurofibromin 1 (NF1) and dual specificity phosphatase 9 (DUSP9). Removal of NF1 and DUSP9 limits the response of HCC to lenvatinib. The absence of NF1 activates both the PI3K/AKT and mitogen-activated protein kinase (MAPK)/ERK signaling pathways, while DUSP9 loss activates the MAPK/ERK but not the PI3K/AKT pathway, thereby downregulating FOXO3 activity, followed by FOXO3 degradation[56]. Integrin subunit beta 8 (ITGB8) is a novel contributor to lenvatinib resistance. Elevated expression of ITGB8 may be regulated via the transcription factor NF-κB. ITGB8-mediated resistance to lenvatinib occurs through an induced increase in the expression of HSP90, which inhibits AKT ubiquitination and promotes AKT stabilization, thereby activating the AKT signaling pathway[57]. ST6 beta-galactoside alpha-2,6-sialyltransferase 1 (ST6GAL1) is a tumor-derived secreted protein that is positively regulated upstream of fibroblast growth factor (FGF)-19 in HCC cells. FGF19 is a critical oncogenic driver gene that facilitates CSC-like properties in liver CSCs[58]. Intriguingly, low levels of FGF19 eliminated lenvatinib susceptibility. However, FGF19 was re-expressed in lenvatinib-resistant HCC cells; therefore, FGF19 is a potential biomarker of lenvatinib-susceptible HCC. Proteome and secretome analyses revealed that FGF19 transcriptionally activates ST6GAL1 via STAT3 phosphorylation, and serum ST6GAL may be a useful biomarker for the identification of lenvatinib-susceptible FGF19-driven HCC[59]. The HCC-secreted glycoprotein, a disintegrin and metalloprotease domain containing thrombospondin type 1 motif-like 5 (ADAMTSL5), is another master regulator of tumorigenicity. ADAMTSL5 depletion gives rise to loss of the expression of the HCC marker AFP and the CSC markers CD133, EPCAM and CDH1 and interferes with the self-renewal ability of HCC cells. Strikingly, ADAMTSL5 downregulation influences HCC cell sensitivity to clinically relevant drugs, such as sorafenib, crizotinib, lenvatinib, and regorafenib[60]. Mucin 15 (MUC15) is downregulated in CD24+ or EpCAM+ HCC cells as well as in liver tumor-initiating cells (TICs) and is essential for HCC cell self-renewal, tumorigenicity, and lenvatinib resistance. Mechanistically, MUC15 interacts with c-MET and then inhibits PI3K/AKT/SOX2 signaling. Additionally, miR-183-5p.1 targets the 3'-UTR of MUC15 directly. In turn, SOX2 transactivates miR-183-5p.1 to inhibit MUC15 expression in liver TICs. Importantly, the miR-183-5p.1/MUC15/c-MET/PI3K/AKT/SOX2 regulatory circuit triggers lenvatinib resistance[61].
The expression of the ncRNA circMED27 is elevated in HCC serum and is positively associated with a poor prognosis for HCC patients. circMED27 induces insensitivity to lenvatinib by sponging miR-655-3p, which acts as a tumor suppressor by inhibiting the β-catenin pathway[62].
Regorafenib
Regorafenib is an oral multikinase inhibitor approved as a second-line treatment for unresectable HCC. Regorafenib targets a broad range of relevant protein kinases, including VEGFR1-3, TIE2, FGFR1-2, PDGFR, KIT, RAF, and RET. Although regorafenib brings clinical benefits, drug resistance is inevitable[63]. Gankyrin augments β-catenin mRNA levels by increasing the expression of the RNA-binding protein HuR. The upregulation of β-catenin promotes the expression of c-Myc, which contributes to the tolerance to sorafenib and regorafenib mediated by Gankyrin in HCC[64]. Pin1 is a high-abundance gene in regorafenib-resistant HCC cells. Pin1 contributes to regorafenib resistance by affecting EMT traits. Inhibition of Pin1 suppresses EMT and metastasis by reducing the levels of the EMT regulators E-cadherin and Snail; additionally, Pin1 interacts with another EMT regulator, Gli1[65]. Through CRISPR/Cas9 screening, the Hippo signaling pathway, which is responsible for regorafenib resistance, was identified. Inactivation of large-tumor suppressor 2 (LATS2) leads to YAP dephosphorylation, and YAP inhibition resensitizes regorafenib-insensitive HCC cells to regorafenib[66]. RAB27A is a Rab GTPase that controls the release of exosomes. Exosomes secreted by liver CSCs transfer regorafenib resistance to differentiated HCC cells when RAB27A is activated. Moreover, RAB27A-derived exosomes promote Nanog expression to maintain CSC self-renewal ability. Downregulating RAB27A sensitizes HCC cells to regorafenib[67]. Interestingly, acute regorafenib administration enhances Wnt/β-catenin signaling in hepatoblast-like HCC cells, along with the activation of hepatic stem/progenitor markers. In turn, the activation of Wnt/β-catenin signaling caused by Wnt3a/R-Spo1 intervention avoids apoptosis from regorafenib stimuli. In addition, long-term regorafenib tolerance leads to enhanced TGF-β signaling activity and increased expression of the CSC markers CD24 and CD133[68]. Interleukin-6 receptor alpha (IL-6Rα) is induced in response to sorafenib and is essential for IL-6-mediated sorafenib resistance in HCC. Transcription factor 3 (ATF3) binds to the IL-6Rα promoter and induces IL-6Rα expression. The ATF3-IL-6Rα cascade is also activated in regorafenib-resistant HCC cells. Blockade of IL-6Rα sensitizes HCC to sorafenib and regorafenib both in vitro and in vivo[69].
Immune checkpoint inhibitors
Despite the promising outcomes of ICIs for HCC treatment, not all patients are sensitive to ICIs and inevitably acquire resistance to ICI therapy. A large number of studies have shown that CSCs are necessary for immunosuppressive microenvironment formation, resulting in immune evasion. The molecular mechanisms mainly include elevated expression of immunosuppressive factors and activation of CSC signaling pathways correlated with ICI resistance. The Wnt/β-catenin signaling pathway and TGF-β signaling pathway are closely connected with immune evasion, exclusion and resistance[70].
An HCC immune-excluded class (cold tumors), defined by Wnt/CTNNB1 mutations, is refractory to ICIs in patients treated with anti-PD-1/PD-L1 monoclonal antibodies (81%), anti-CTLA-4 monoclonal antibodies or combinations of anti-PD-1/PD-L1 antibodies with anti-CTLA-4, anti-KIR or anti-LAG3 antibodies (19%)[71]. MYC; p53-/- HCC tumors show highly active β-catenin signaling, which directly promotes immune escape. In addition, the β-catenin-driven MYC-lucOS;CTNNB1 or MYC-luc;CTNNB1 models are insensitive to nivolumab and pembrolizumab. Of particular interest, CTNNB1 mutation may be used as a biomarker for HCC patient exclusion[72]. In our recent studies, the secreted protein GDF1, which belongs to the TGF-β superfamily, was found to be highly expressed in embryonic stem cells and is gradually downregulated in the endoderm, liver progenitor cells, premature hepatocytes, and hepatocytes but reactivated in HCC. Overexpression of GDF1 leads to tumor dissemination and metastasis. Ectopic expression of GDF1 can induce tumor-lineage plasticity through the activin receptor-like kinase 7 (ALK7)-mothers against decapentaplegic homolog 2/3 (SMAD2/3) signaling cascade. Intriguingly, GDF1-mediated lineage plasticity might be an Achilles heel for HCC immunotherapy. A wide panel of cancer-testis antigens (CTAs) are activated in HCC by GDF1 via suppression of the epigenetic regulator lysine-specific demethylase 1 (LSD1). The inhibition of LSD1 is mediated by SMAD2/3 binding to its promoter region in a GDF1-dependent manner[23]. HNRNPM (heterogeneous nuclear ribonucleoprotein M) is an elevated oncofetal splicing factor that has the same expression pattern as GDF1 in HCC. HNRNPM is essential for maintaining the stem cell-like properties and tumorigenesis of HCC cells. Moreover, HNRNPM mediates the immunosuppressive tumor environment in HCC. Mechanistically, HNRNPM binds to the flanking introns of MBD2 to promote its alternative splicing. MBD2a, one of the isoforms of MBD2, enhances FZD3 expression and activates the Wnt/β-catenin signaling pathway. FZD3 and β-catenin further promote the expression of SOX2 and OCT4. Interestingly, ectopic expression of SOX2 and OCT4, in turn, upregulates HNRNPM expression via direct promoter binding[73]. Patients with anti-PD1-resistant HCC are frequently positive for zinc finger protein 64 (ZFP64). ZFP64 induces anti-PD1 resistance by shifting macrophage polarization to an abnormal activation phenotype (M2) and inhibiting the TME. Mechanistically, protein kinase C alpha (PKCα) phosphorylates ZFP64 at S226 and induces its nuclear translocation, leading to transcriptional activation of macrophage colony-stimulating factor (CSF1). This results in a shift of macrophages to the M2 phenotype. Clinically, anti-PD1 resistance is frequently observed in individuals with an active PKC/ZFP64/CSF1 axis[74].
circMET (hsa_circ_0082002) is an onco-circRNA that is upregulated in HCC, and overexpression of circMET promotes EMT and the formation of an immunosuppressive tumor microenvironment. Generally, the effect of immune tolerance triggered by circMET occurs through the Snail/dipeptidyl peptidase 4 (DPP4)/CXCL10 axis. In detail, circMET works as a sponge for miR-30-5p; Snail is a novel identified target of miR-30-5p, and the upregulation of Snail significantly promotes DPP4 expression. The miR-30-5p/Snail/DPP4 axis further degrades CXCL10 to trigger immunosuppression[75].
THERAPEUTIC STRATEGIES FOR CSC-MEDIATED DRUG RESISTANCE
Drug resistance-related CSC identification strategies
The identification of drug resistance-related CSCs can be achieved by multi-omics (e.g., transcriptomics, proteomics, metabolomics, lipidomics, glycomics) in publicly accessible repositories (e.g., gene expression omnibus (GEO), CancerDR, canSAR, Genomics of Drug Sensitivity in Cancer data, and Platinum) or institutional sources. However, due to intratumor heterogeneity, tissue biopsy sampling errors may occur. Strikingly, liquid biopsy has recently gained popularity as a noninvasive and repeatable means of detecting drug resistance indicators in body fluids. Liquid biopsy can alleviate the difficulties in collecting tissue biopsies, provide insight into spatial and/or temporal heterogeneity, and facilitate dynamic therapeutic response monitoring (detection of resistance mechanisms)[76,77].
Multiple techniques have been applied for analysis and post-analysis after sample collection and processing. To date, drug-resistant drivers have been measured via real-time quantitative polymerase chain reaction (qPCR), immunoblotting, immunohistochemistry, immunofluorescence, flow cytometry, mass spectrometry and next-generation sequencing (NGS). Recent achievements in NGS, such as bulk-cell RNA sequencing, genome-wide CRISPR sequencing, long-read RNA sequencing, circular RNA sequencing and single-cell RNA sequencing (scRNA-seq), have provided extraordinary insights into tumor heterogeneity, treatment resistance, tumor relapse, and metastasis. Ho et al. adopted single-cell genomics to unveil the landscape of intratumoral heterogeneity and identify a rare cell subpopulation of CD24+/CD44+ cells within the EPCAM+ population in HCC[78]. Zhou et al. applied lineage tracing and scRNA-seq to reveal the increasing tumorigenicity and the ability to form cancers of differential lineages of Prom1+ HCC cells, highlighting the heterogeneity and dynamics of Prom1+ HCC cells, which confer a dedifferentiated status and stem cell traits[79]. CD24, CD44, and PROM1 have already been verified to be responsible for drug resistance in HCC[37,42,80].
Preclinical models for evaluating CSC-mediated drug resistance
Tumor-derived cell lines and patient-derived xenografts (PDXs) are the two most common models used for drug resistance studies because they are able to retain the majority of the molecular characteristics of primary tumors. A large variety of tumor-derived cell lines are acceptable for studies on the molecular prediction of drug response and biomarker discovery. Caruso et al. performed whole-exome RNA and microRNA sequencing to screen the efficacy of 31 anticancer agents in 34 liver cancer cell lines and distinguished genetic alterations and gene expression patterns correlated with drug response[81]. Large-scale functional screening using RNAi or CRISPR/Cas9 is another promising technique for studying CSC-mediated drug resistance. For instance, Wei et al. utilized CRISPR/Cas9 library screening and identified phosphoglycerate dehydrogenase (PHGDH) as an essential gene for sorafenib resistance[82]. Overexpression of PHGDH leads to regorafenib and lenvatinib resistance in HCC. In particular, PHGDH is required for cancer stem cell maintenance[83]. Despite the ease of manipulation and suitability for high-throughput screening of tumor-derived cell lines, they are unable to fully reflect the native 3D environment of tumor cells. Instead, PDXs more closely mimic parental tumors. He et al. developed the first public liver cancer PDX model database, which contains 116 PDTXs generated from HCC[84]. The molecular and drug response data, as well as the clinical annotation, are available from: http://www.picb.ac.cn/PDXliver/. Despite this, long engraftment periods and low engraftment efficiency are still the major drawbacks hindering the application of the PDX model in large-scale drug response testing. To overcome the shortcomings of 2D culture and PDX, a 3D preclinical organoid model was developed. Coexisting CSC subclones display different sensitivities to drug therapies, but HCC organoids retain the histological architecture, genetic background and heterogeneity of the parent tumor; therefore, organoid models allow the personalized management of targeted therapies. Broutier et al. first successfully developed human primary liver cancer organoid lines to identify patient-specific drug sensitivities[85]. Nuciforo et al. generated long-term organoid cultures to test sorafenib sensitivity[86]. Wang et al. established patient-derived organoid models to examine how CD44 and Hedgehog signaling contribute to sorafenib tolerance and determine whether combination therapy with sorafenib and a compound targeting Hedgehog signaling is effective in overcoming resistance[42]. In addition to the above models, immunocompetent mice, including spontaneous, chemically induced and genetically engineered models, are also widely used in the study of drug resistance[87]. Overall, the development of novel preclinical models and the combined application of multiple preclinical models will undoubtedly improve the accuracy of drug sensitivity and/or resistance predictions in a patient-specific manner [Figure 2].
MONO- OR COMBINATION THERAPIES TO AGAINST DRUG RESISTANCE
CONCLUSIONS
For many years, pharmaceutical therapies have largely relied on sorafenib, which has enabled some improvements in survival but not in the quality of life. Recently, a phase 3 randomized, open-label study, the IMbrave150 study (NCT03434379), showed that atezolizumab (anti-PD-L1 antibody) plus bevacizumab (anti-VEGF antibody) significantly improved overall survival (OS) and progression-free survival (PFS) versus sorafenib and had an acceptable safety profile in patients with unresectable HCC after longer follow-up, which confirmed atezolizumab plus bevacizumab as the first-line standard of care for advanced HCC[91,92]. Another phase III randomized trial, the HIALAYA trial (NCT03298451), compared a single priming dose of tremelimumab (anti-CTLA-4 antibody) with once-monthly durvalumab (anti-PDL1 antibody) to sorafenib. Tremelimumab plus durvalumab led to better OS than sorafenib as a first-line treatment for patients with unresectable HCC[93]. Other clinical trials are underway to improve the efficacy of combination therapy in advanced HCC. For example, a phase III randomized trial is examining apatinib plus camrelizumab (anti-PD1 antibody) versus sorafenib (NCT03764293), a phase II study is exploring nivolumab and regorafenib (NCT04310709), and a phase II study is investigating regorafenib plus tislelizumab (anti-PD1 antibody) (NCT04183088)[94].
There has been a dramatic improvement in our understanding of HCC biology. Biological features and clinical properties differ among HCC patients, which is likely due to heterogeneity. Clinically, heterogeneity is largely responsible for tumor progression, metastasis, relapse, and resistance to treatment. Because CSCs are the major source of tumor heterogeneity, CSC characteristics are undoubtedly tightly associated with drug resistance. Intriguingly, CSCs have features similar to those of ESCs, which suggests the importance of developmental signals in resistance to therapeutics. Hence, deep exploration of stemness properties will largely facilitate further insights into treatment resistance.
Although studies on CSCs are broadening our understanding, the implementation of effective precision medicine remains a challenge. Reliable biomarkers to predict treatment failure are still lacking. Precise targeting of specific CSC properties might serve as a novel strategy to eliminate resistant CSC subpopulations. In addition, combined application of multiple techniques and models or development of new effective approaches will allow detailed characterization of heterogeneity and elucidation of the mechanisms underlying therapeutic resistance and thus result in more favorable outcomes.
DECLARATIONS
Acknowledgments
The figures are created with BioRender.com and quoted with permission from BioRender.
Authors' contributions
Initiated the study and fnalized the manuscript: Liu M
Reviewed the literatures and wrote the manuscript: Li MM
Reviewed the literatures and drew the pictures: He YT, Liang JK
Review and revised the manuscript: Guan XY, Ma NF
Read and approved the final manuscript: All authors
Availability of data and materials
Not applicable.
Financial support and sponsorship
This work was supported by the National Natural Science Foundation of China (No. 82003773).
Conflicts of interest
All authors declared that there are no conflicts of interest.
Ethical approval and consent to participate
Not applicable.
Consent for publication
Not applicable.
Copyright
© The Author(s) 2022.
Cite This Article
OAE Style
Li MM, He YT, Liang JK, Guan XY, Ma NF, Liu M. Cancer stem cell-mediated therapeutic resistance in hepatocellular carcinoma. Hepatoma Res 2022;8:36. http://dx.doi.org/10.20517/2394-5079.2022.43
AMA Style
Li MM, He YT, Liang JK, Guan XY, Ma NF, Liu M. Cancer stem cell-mediated therapeutic resistance in hepatocellular carcinoma. Hepatoma Research. 2022; 8:36. http://dx.doi.org/10.20517/2394-5079.2022.43
Chicago/Turabian Style
Li, Mei-Mei, Yi-Ti He, Jie-Kai Liang, Xin-Yuan Guan, Ning-Fang Ma, Ming Liu. 2022. "Cancer stem cell-mediated therapeutic resistance in hepatocellular carcinoma" Hepatoma Research. 8: 36. http://dx.doi.org/10.20517/2394-5079.2022.43
ACS Style
Li, M.M.; He Y.T.; Liang J.K.; Guan X.Y.; Ma N.F.; Liu M. Cancer stem cell-mediated therapeutic resistance in hepatocellular carcinoma. Hepatoma. Res. 2022, 8, 36. http://dx.doi.org/10.20517/2394-5079.2022.43