Major features
LI-RADS major features are the primary imaging features used to categorize observations as LR-3, LR-4, or LR-5. Major features were selected to provide high specificity for hepatocellular carcinoma and are the only features that can be used to categorize an observation as LR-5. These major features are included in the diagnostic table and include arterial phase hyperenhancement, nonperipheral "washout", enhancing "capsule", size, and threshold growth [Figure 1].
Arterial phase hyperenhancement refers to enhancement of an observation during the arterial phase that is greater than the background liver and results in signal intensity or attenuation that is higher than the background liver. This feature is best assessed during the late hepatic arterial phase and is present in most HCCs that have progressed[9,10]. A peripheral pattern to the arterial phase hyperenhancement, however, has been associated with non-HCC malignancies such as cholangiocarcinoma and metastases [Figure 4][11].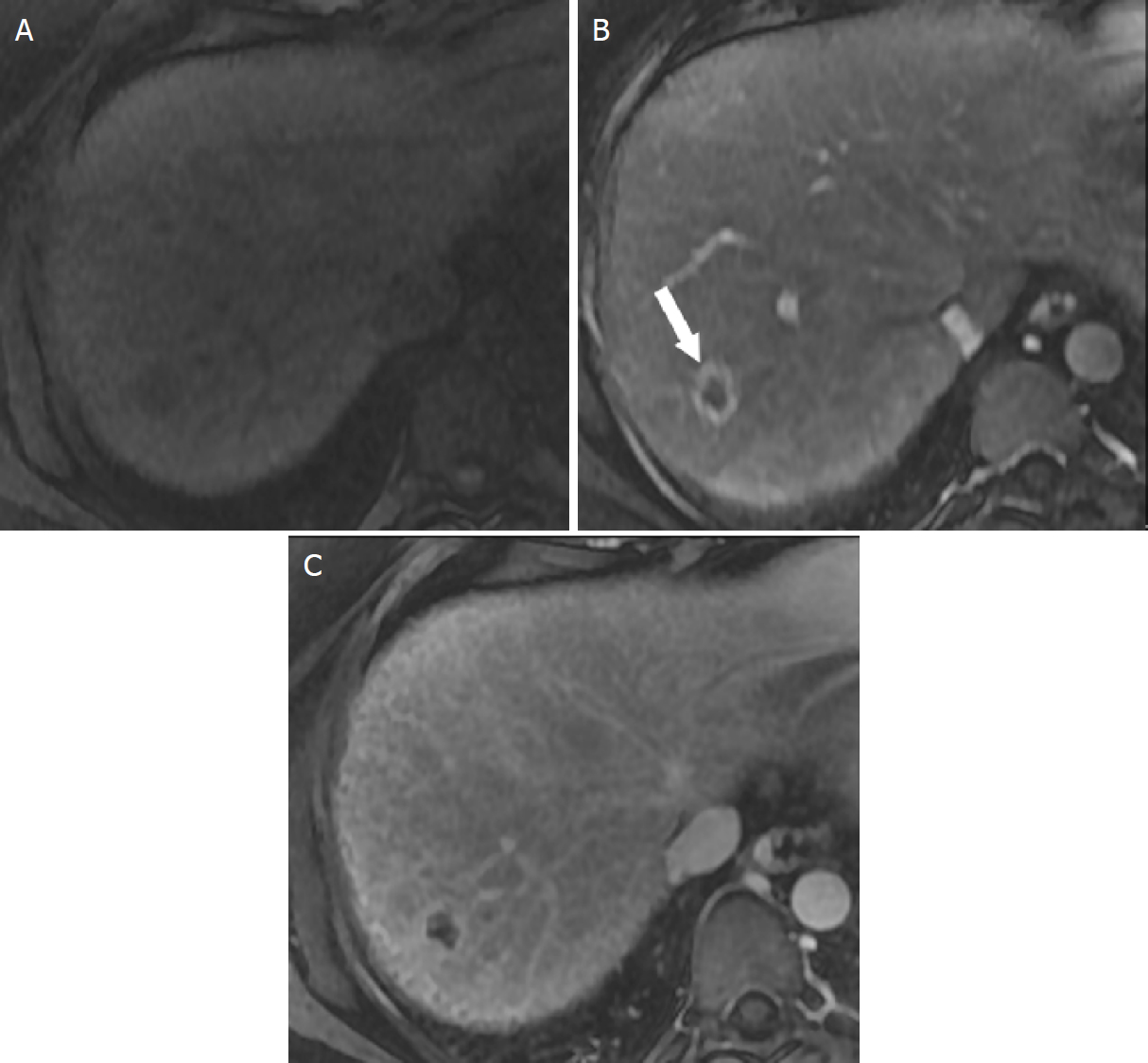 Figure 4. Peripheral Arterial Phase Hyperenhancement. Axial T1-weighted fat saturated MR images of the abdomen prior to (A), and during the arterial phase (B) and delayed phase (C) of dynamic post extracellular contrast images. The 26 mm observation in the right hepatic lobe demonstrates peripheral arterial phase hyperenhancement (white arrow). This feature does not qualify as the major feature of nonrim arterial phase hyperenhancement and should lead the radiologist to assign the category of LR-M (probably or definitely malignancy, but not HCC specific). HCC: hepatocellular carcinoma
Therefore, only nonrim arterial phase hyperenhancement should be used for the assignment of LR-5 category to an observation.
The term nonperipheral "washout" refers to reduction in enhancement in whole, or in part, within an observation from an earlier post-contrast imaging phase to a later extracellular post-contrast phase. "Washout" (with quotation marks) refers to visual assessment of washout appearance and does not specifically require measurement of enhancement or construction of an enhancement curve. "Washout" in combination with arterial phase hyperenhancement is a highly specific imaging feature of HCC[12,13]. If "washout" is present primarily along the margins of the observation, however, the imaging feature is instead considered peripheral "washout" and is not a major feature due to its association with intrahepatic cholangiocarcinoma[11]. Hypointensity on the transitional or hepatobiliary phases should not be considered "washout" since the high specificity of washout in the literature and its inclusion in LI-RADS has been based on exams performed with ECA. If "washout" is present in an observation prior to the transitional phase on an exam using a hepatobiliary contrast agent, "washout" can be considered present and used as a major feature for LI-RADS categorization.
Enhancing "capsule" describes a smooth uniform border around the majority of an observation margin that is unequivocally thicker or distinct from any fibrotic tissue present elsewhere in the liver. To be considered a major feature, this finding must be present on the portal venous, delayed, or transitional phase of post-contrast imaging [Figure 5]. The term "capsule" is used in place of capsule appearance, since the imaging finding of a "capsule" can be indicative of either a true fibrous capsule or pseudocapsule on histology. Regardless of whether a true capsule or pseudocapsule is present, however, the imaging feature of "capsule" is present in 12%-94% of HCCs[14-17].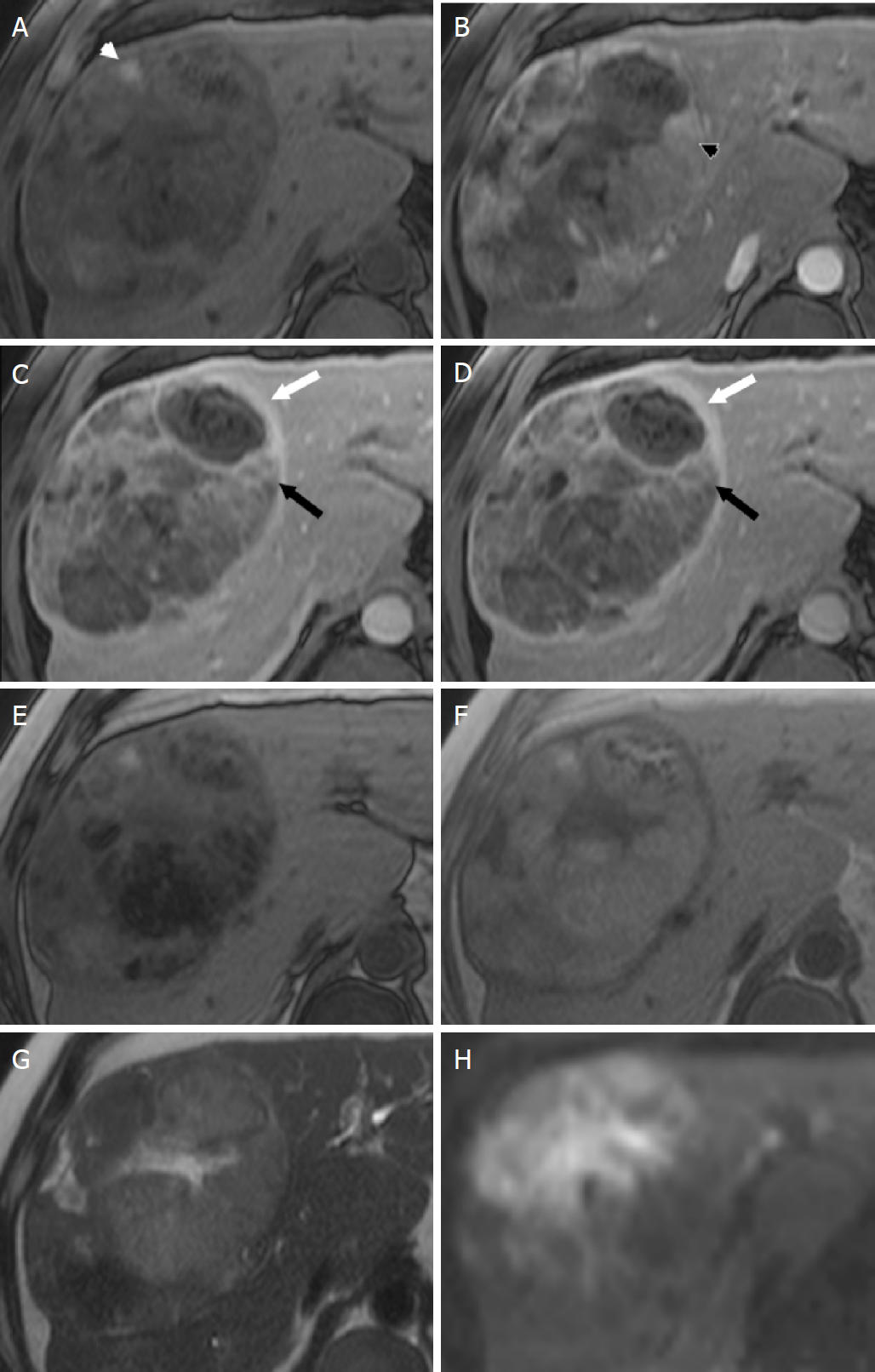 Figure 5. LR-5 - Definitely HCC. Axial MR images of a 14 cm mass at the junction of the right and left hepatic lobes. T1-weighted fat saturated images performed prior to (A) as well as during the arterial phase (B), portal venous phase (C), and delayed phase (D) following contrast administration demonstrate areas of arterial phase hyperenhancement (black arrowhead), "washout" (black arrow), and "capsule" (white arrow). The presence of three major features and size greater than 20 mm lead to LI-RADS 5 as the correct category for this mass. Additionally, the mass has ancillary features favoring HCC including mosaic architecture, fat in mass (seen as loss of signal between in-phase (F) and opposed-phase (E) T1-weighted images), and blood products in mass (white arrowhead, A). Additional ancillary features favoring malignancy, not HCC in particular, are also present including mild-moderate T2 hyperintensity (T2-weighted image, G) and restricted diffusion (diffusion weighted images, H). HCC: hepatocellular carcinoma
The size of an observation is the largest outer edge to outer edge dimension of an observation and should be measured on the sequence or phase where the margins of the observation are the most clear and distinct. Due to perfusion alterations that can manifest during the arterial phase, size should not be assessed on the arterial phase unless the observation is not visible on any other phase or sequence. Also, due to anatomic distortion that is often present on diffusion weighted imaging (DWI), measurements should be avoided on the DWI sequence unless the observation is not visible on another sequence. If the observation demonstrates capsule appearance, the capsule should be included in the size measurement. Only observations that are 10 mm or larger are eligible to be considered definitely as HCC (LR-5) in combination with arterial phase hyperenhancement and other major features.
Threshold growth in LI-RADS v2018 refers to the size increase of an observation by greater than 50% within six months. Threshold growth only applies to observations that are definitely masses, since perfusion alterations can often vary in size from one exam to the next. Also, the comparison prior examination must be a CT or MRI exam that was performed 6 months or less prior to the more recent study [Figure 6]. This definition of threshold growth is different from prior versions of LI-RADS and was changed to achieve congruence with the definition of threshold growth used by the OPTN[18]. Note that the development of a new observation within 6 months of a prior examination is not considered threshold growth in LI-RADS, as the definition requires that the observation was present on the prior exam.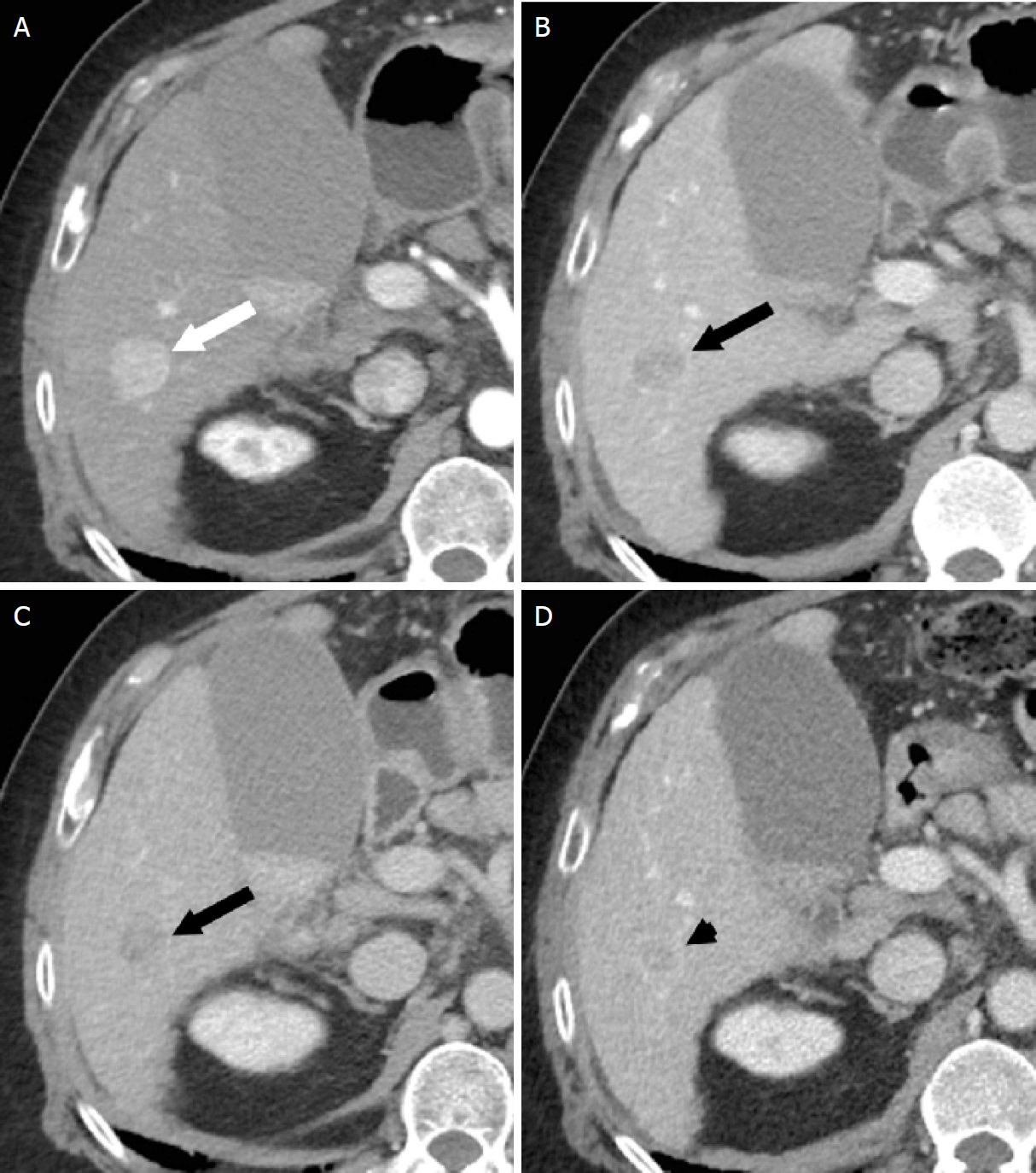 Figure 6. Threshold Growth. Axial CT images of a 21 mm mass in the right hepatic lobe. The mass demonstrates arterial phase hyperenhancement during the arterial phase (white arrow, A), and "washout" with "capsule" (black arrow) on the portal venous (B) and delayed phases (C). Axial CT performed 5 months prior demonstrates a 12 mm mass on the portal venous phase (D, black arrowhead). The interval growth is more than 50% in less than 6 months, therefore, the mass also demonstrates threshold growth. The most appropriate category for this mass is LI-RADS 5. CT: computed tomography; LI-RADS: Liver Imaging Reporting and Data System
Ancillary features
Ancillary features are those imaging features that can be used to change the LI-RADS category of an observation after the application of major features. Ancillary features can change the category by one category to reflect either a higher or lower suspicion of malignancy. Ancillary features cannot, however, be used to change the category of an observation from LR-4 to LR-5. Only major features may be used to categorize an observation as LR-5 to preserve high specificity for HCC. In LI-RADS v2018, ancillary features are divided into those suggestive of malignancy versus those suggestive of benignity [Table 4]. Ancillary features suggestive of malignancy are further subdivided into those that are and are not specific to HCC. For example, the presence of intralesional fat is considered a specific finding of HCC in those patients at risk for developing HCC, whereas restricted diffusion can be present in many types of malignant lesions such as metastases from an extrahepatic primary malignancy [Figure 7][8]. If an observation has multiple ancillary features for both benignity and malignancy, then the category of the observation should not be adjusted. Finally, the use of ancillary features is optional at the radiologist's discretion for designating a LI-RADS category.
Table 4
LI-RADS v2018 ancillary imaging features
| Features favoring malignancy, not HCC in particular | Features favoring HCC in particular | Features favoring benignity |
| --- | --- | --- |
| US visibility as discrete nodule | Nonenhancing "capsule" | Size stability ≥ 2 years |
| Subthreshold growth | Nodule-in-nodule architecture | Size reduction |
| Corona enhancement | Mosaic architecture | Parallels blood pool enhancement |
| Fat sparing in solid mass | Fat in mass, more than adjacent liver | Undistorted vessels |
| Restricted diffusion | Blood products in mass | Iron in mass, more than liver |
| Mild-moderate T2 hyperintensity | | Marked T2 hyperintensity |
| Iron sparing in solid mass | | Hepatobiliary phase isointensity |
| Transitional phase hypointensity | | |
| Hepatobiliary phase hypointensity | | |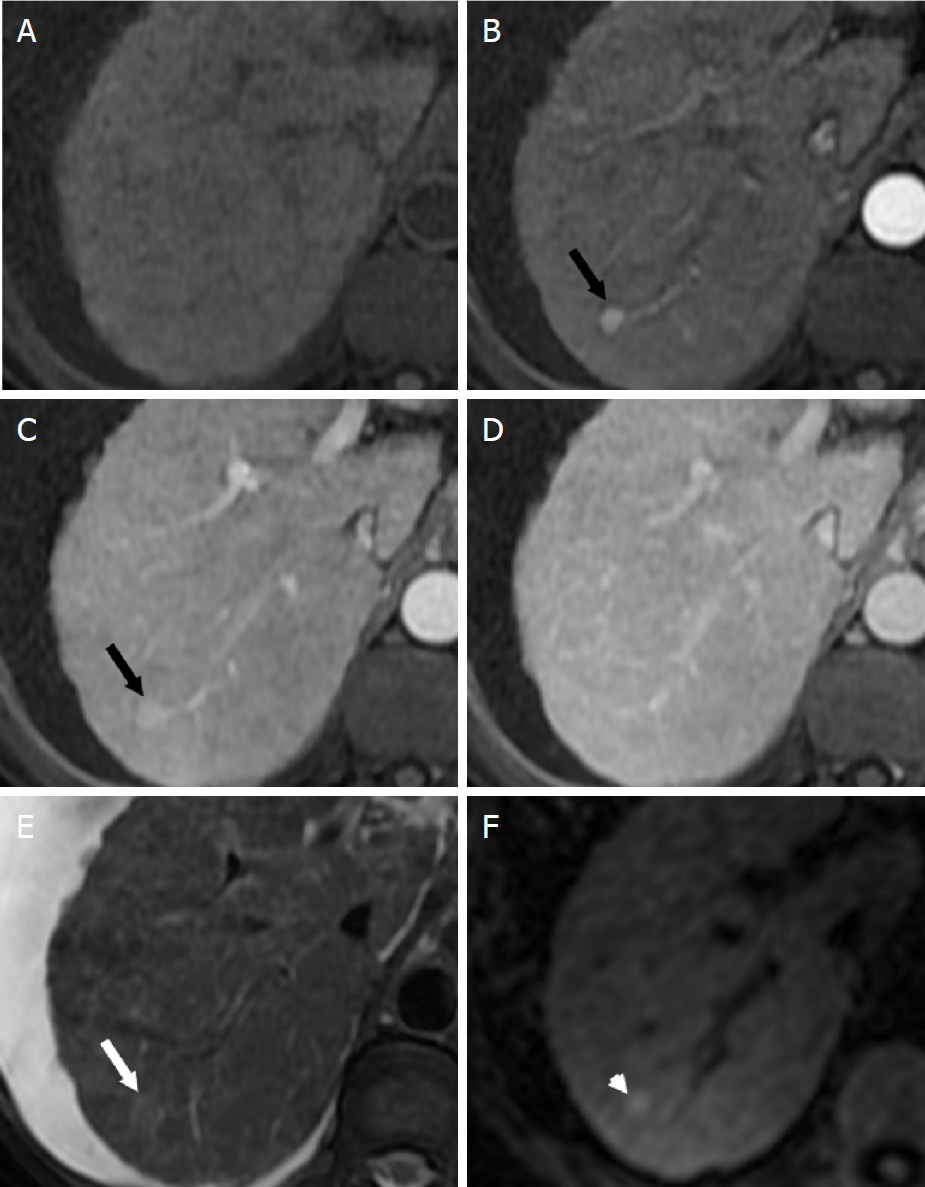 Figure 7. LR-4 - Probably HCC. Axial MR images of a 9 mm observation in the right hepatic lobe. T1-weighted fat saturated images performed prior to (A) as well as during the arterial phase (B), portal venous phase (C), and delayed phase (D) following contrast administration demonstrate arterial phase hyperenhancement (black arrow) of the observation which persists into the portal venous phase. Based on the size and presence of a single major feature, the appropriate category for this observation is LI-RADS 3. The observation also demonstrates mild T2-hyperintensity (white arrow, E) and restricted diffusion (white arrowhead, F). The presence of ancillary features suggestive of malignancy then allow the radiologist discretion with changing the category to LI-RADS 4 to reflect higher suspicion for HCC. HCC: hepatocellular carcinoma; LI-RADS: Liver Imaging Reporting and Data System