Abstract
Non-alcoholic fatty liver disease (NAFLD) and its advanced complication, non-alcoholic steatohepatitis (NASH), have become leading causes of hepatocellular carcinoma (HCC) worldwide. In this review, we discuss the role of metabolic, gut microbial, immune and endocrine mediators which promote the progression of NAFLD to HCC. In particular, this progression involves multiple hits resulting from lipotoxicity, oxidative stress, inhibition of hepatic autophagy and inflammation. Furthermore, dysbiosis in the gut associated with obesity also promotes HCC via induction of proinflammatory cytokines and Toll like receptor signalling as well as altered bile metabolism. Additionally, compromised T-cell function and impaired hepatic hormonal action promote the development of NASH-associated HCC. Lastly, we discuss the current challenges involved in the diagnosis and treatment of NAFLD/NASH-associated HCC.
Keywords
Non-alcoholic fatty liver disease, non-alcoholic steatohepatitis, hepatocellular carcinoma, Gut microbiome, dysbiosis, autophagy, ER-stress, ROS, TNFα, TLR-9, TLR-4, hyperinsulinemia
Introduction
Hepatocellular carcinoma (HCC) is the primary form of liver cancer and is a leading cause of cancer-related mortality worldwide[1]. It is predominantly known to occur in patients suffering from underlying chronic liver disease and cirrhosis. Hepatitis B and C virus (HBV and HCV, respectively) infections, excessive consumption of alcohol and non-alcoholic fatty liver disease (NAFLD) historically have been recognised as the major causes of HCC; however, the incidence of virus-associated HCC is expected to decrease in the near future due to the development of effective and inexpensive vaccines for HBV and potent anti-HCV drugs[1,2]. In contrast, the prevalence of non-viral hepatitis continues to rise and has become the major cause for liver transplantation in Europe and the USA[3]. The increased prevalence of metabolic disorders, particularly diabetes, NAFLD and obesity, have led to changes in the epidemiology and aetiology of HCC[4]. Obesity is considered a risk factor for hepatic complications such as NAFLD and HCC[5-9]. Although 17%-33% of the general population is estimated to be affected by NAFLD, it reaches 75% in obese individuals and is even higher in patients with type II diabetes mellitus (T2DM)[10,11]. Moreover, T2DM itself is associated with an increased risk of liver damage[12], including HCC[13-15]. Chronic damage to liver metabolism caused by alcohol and poor nutrition leads to alcoholic liver disease that can co-exist with NAFLD/non-alcoholic steatohepatistis (NASH), and thereby increases both the progression of NAFLD and the risk for NAFLD/NASH-associated HCC[2,3].
This review focuses on NAFLD-associated HCC, and describes its epidemiology and the clinical, cellular, metabolic, microbiome and endocrine factors that promote the development of HCC from NAFLD. We also examine the molecular pathways that lead to progression from NAFLD to HCC as well as the challenges and future directions for its treatment and prevention.
NAFLD increases the risk of liver cancer
NAFLD encompasses a spectrum of liver pathologies which involve an accumulation of triglycerides in the hepatocytes, hepatocyte apoptosis, liver inflammation and fibrosis termed as NASH, and, in extreme cases, it can progress to cirrhosis and HCC[16]. NAFLD is the most common cause of HCC across the globe[16-28]. Although the progression of NAFLD to HCC involves NASH and cirrhosis, the direct development of HCC from benign steatosis or non-cirrhotic NASH has also been reported[29,30]. The increased prevalence of the underlying liver disease in the general population has led to an increase of 9% in the annual rates of incidence of NAFLD-associated HCC[31]. Interestingly, HCC can progress from NASH as well as cirrhosis. In a study cohort based on 756 patients, Piscaglia et al.[32] reported that 46.2% of the NAFLD associated HCC cases occurred without cirrhosis. Similar results were reported by a Japanese study, in which 49% of NAFLD associated HCC cases arose without cirrhosis[33], and a German study where 41.7% of the cases arose without cirrhosis[34]. Furthermore, in animal models, diet-induced NAFLD leads to spontaneous HCC[35].
Cellular mechanisms involved in NAFLD pathogenesis
NAFLD is a complex disease with multiple modifiers such as diet, lifestyle and gut microbiota which act in a susceptible genetic/epigenetic environment and modulate response to calorific excess[36,37]. The role of insulin resistance is central to this pathophysiological process and causes an increase in hepatic fat accumulation by increased deposition of free fatty acids (FFAs)[38]. This leads to oxidative stress, protein misfolding, autophagy inhibition and mitochondrial damage within hepatocytes, termed as "lipotoxicity"[38]. Chronic lipotoxicity challenges hepatocytes with both oxidative and endoplasmic reticulum (ER) stress. Oxidative stress mediated by reactive oxygen/nitrogen species (ROS/RNS) play a major role in NAFLD/NASH pathogenesis and complications. The high production of ROS causes mitochondrial damage, lipid peroxidation and low-density lipoprotein oxidation culminating into inflammation, activation of hepatic stellate cells (HSCs) leading to fibrogenesis, necrosis, cirrhosis and HCC[39].
ER stress is cell activated to regulate protein synthesis and restore homeostatic equilibrium in response to accumulation of unfolded or misfolded proteins. However, deregulated or insufficient responses to ER stress in liver may lead to lipid accumulation, insulin resistance, inflammation and apoptosis, all of which play important roles in the pathogenesis of NAFLD[40]. These events lead to inflammation and fibrosis as macrophage infiltration, hepatic progenitor cell activation and fibrogenesis ensue[41,42]. There are multiple factors that contribute to the pathogenesis of NAFLD and its progression. These include: dysregulated lipid metabolism, oxidative stress, ER stress, mitochondrial dysfunction, altered immune function, and gut-microbiota imbalance acting together in a genetic/epigenetic environment [Figure 1].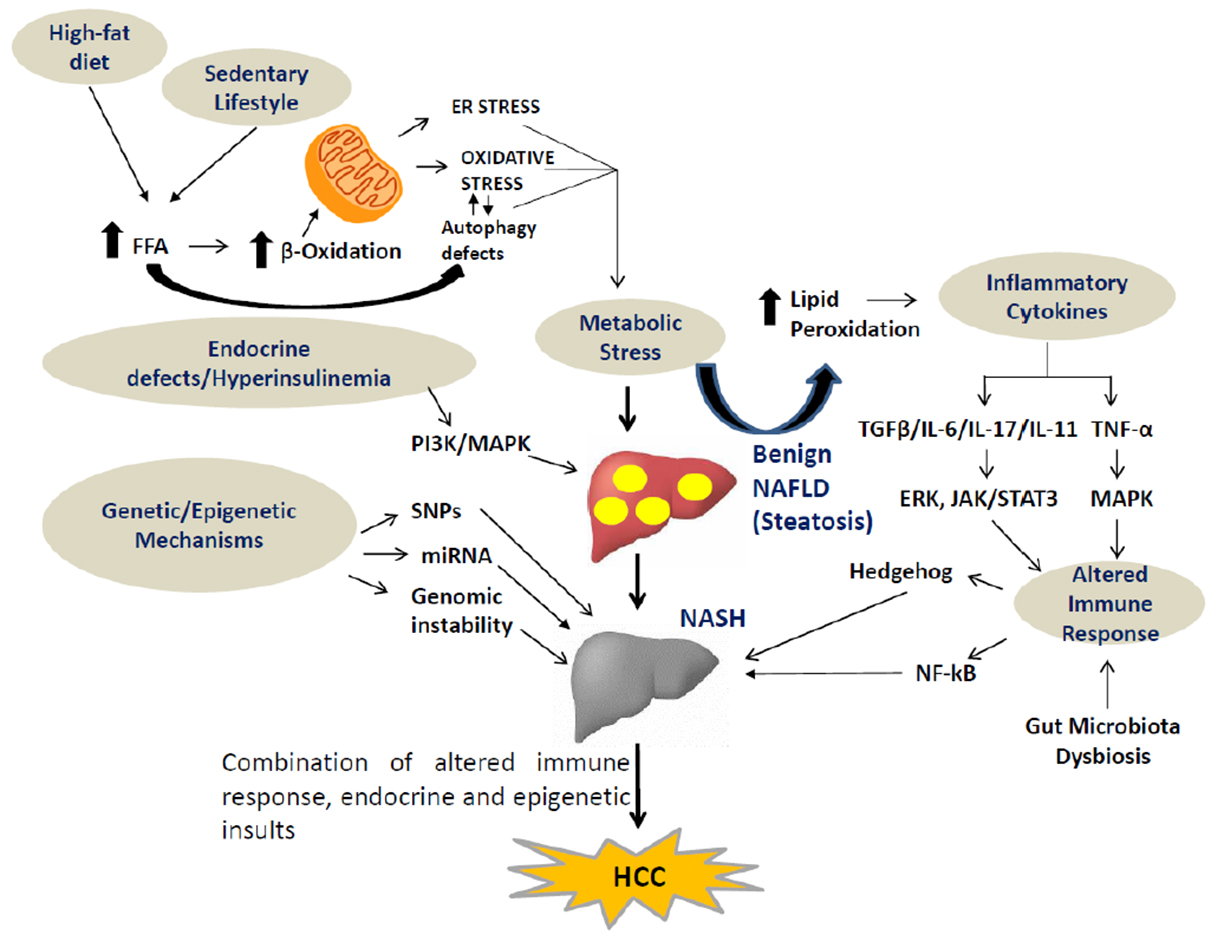 Figure 1. Multiple hits lead to onset and progression of NAFLD/NASH to HCC. Diverse signalling pathways involved in metabolic stress such as FFAs ER-stress, cytokine production (IL-6, IL-17, IL-11 and TGF-β), altered immune response, pro-fibrogenic mediators (hedgehog and NF-κB), gut dysbiosis and endocrine defects drive the development of NAFLD/NASH-associated HCC. NAFLD: non-alcoholic fatty liver disease; NASH: non-alcoholic steatohepatitis; HCC: hepatocellular carcinoma; FFAs: free fatty acids; ER: endoplasmic reticulum; IL-6: interleukin-6; IL-17: interleukin-17; IL-11: interleukin-11; TGF-β: transforming growth factor β; SNPs: single nucleotide polymorphisms; miRNA: micro RNA; PI3K: phosphatidylinositol 3-kinases; MAPK: mitogen-activated protein kinase; NF-κB: nuclear factor kappa-light-chain-enhancer of activated B-cells; TNF-α: tumour necrosis factor-alpha; ERK: extracellular receptor kinase; JAK: Janus kinase; STAT: signal transducer and activator of transcription
Molecular mechanisms leading to progression from NAFLD to HCC
Studies on the development of HCC suggest that carcinogenesis in hepatocytes is a consequence of genetic/epigenetic alterations as well as complex changes in energy metabolism, cell growth and proliferation and immune signalling pathways. These changes in the cells lead to inflammation, hepatocyte injury, fibrosis and progression to HCC [Figure 1].
Future directions and conclusions
Studies from clinical and basic research have provided a better understanding of the aetiology of NASH-associated HCC. Data from various studies reveal that the co-ordinated actions of genetic instability, impaired lipid metabolism, increased oxidative stress altered lipid metabolism, hepatocyte apoptosis, inflammation, fibrosis and altered hormone signalling contribute to the development of HCC. These pathways likely act simultaneously and in combination to activate genetic and epigenetic mechanisms that cause progression of NAFLD and promote the development of NAFLD/NASH-associated HCC. At the clinical level, currently, it is not possible to determine which patients with NASH are most prone to develop HCC. Further studies are required to identify the patients who are at a risk of developing HCC. The identification of specific biomarkers is essential for predicting the transition from NASH to HCC. Currently, there are no pharmacological therapies for the prevention or treatment of NASH and NASH-associated HCC, thus understanding the mechanisms for the pathogenesis of these conditions may lead to the development of novel therapies. Anti-fibrotic, anti-diabetic, anti-inflammatory, antibiotics/probiotics and lipid-lowering drugs either alone or in combination could hold promise for the treatment for NAFLD/NASH-associated HCC.
Declarations
Acknowledgments
We wish to acknowledge Dr. Paul M. Yen, Duke-NUS Medical School, Singapore for his advice and suggestion while writing the review.
Authors' contributions
Study concept and design: Raza S, Sinha RA
Literature search: Raza S, Rajak S, Anjum B, Sinha RA
Drafting of the manuscript: Raza S, Sinha RA
Critical revision of the manuscript for important intellectual content: Raza S, Sinha RA
Availability of data and materials
Not applicable.
Financial support and sponsorship
This work was supported by the ICMR (59/05/2019/ONLINE/BMS/TRM) and Wellcome Trust/DBT India Alliance Fellowship (IA/I/16/2/502691) awarded to Sinha RA.
Conflicts of interest
All authors declared that there are no conflicts of interest.
Ethical approval and consent to participate
Not applicable.
Consent for publication
Not applicable.
Copyright
© The Author(s) 2019.
Cite This Article
Raza S, Rajak S, Anjum B, Sinha RA. Molecular links between non-alcoholic fatty liver disease and hepatocellular carcinoma. Hepatoma Res 2019;5:42. http://dx.doi.org/10.20517/2394-5079.2019.014